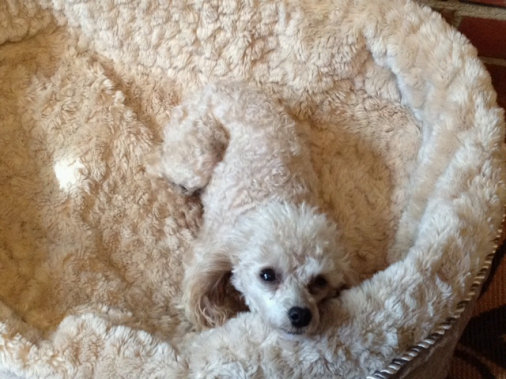 Evelyn of Charlie's Angels forwards a plea:
TIFFANY: Oh my, where should I begin. I guess the part where my other family took me to the cemetary and left me to starve. I'm a good girl, honest. But I have this deformity of my left front leg, requiring Angular Limb Deformity Correction Surgery so that I can lead a normal life and not be in pain. I'm sweet as sugar and a brave little soul. But there were lots of strange critters wandering around that cemetary and I was so scared. But then these nice folks (Charlie's Angels Animal Rescue) found me wandering and took me to the doctor and he said I'm healthy; they gave me shots and even spayed me. Now I'm all better from that but I need this operation to fix my leg so I can run and play and get to do all the things I've missed out on.
__
I'm not even a year old yet–and I only weigh 5.2 lbs. I really want my leg fixed–I want to be able to chase leaves and bugs and even cuddle with my foster mom and not have to wiggle to get my leg in just the right position so it doesn't hurt.
__
Will you help? You see, the corrective surgery I need will be approximately $2,500 with a "rescue" discount. I put weight on my leg, but not for any length of time and its not a normal gait when I walk. I just have to stop and it feels bad so I hold my paw up to make it quit hurting.
__
A note from Linda: Tiffany deserves the chance to be a carefree pup–something that obviously she hasn't experienced yet. SCRATCH wants to afford her that opportunity but we need your help. Your donation will get us closer to having the funds to schedule Tiffany's surgery so that she, too, can run and play and find a loving home where she can learn to trust and be loved.
__
See her picture below showing her new haircut in anticipation of the surgery and notice her left front leg that the orthopedic surgeons predict can be repaired with success!
__
If you can consider a $1 or $10 (or more!) tax deductible donation we will appreciate it, and assure you that every penny will be used for little Tiffany's care. We will send you updates on her surgery and progress! You can mail your donation to SCRATCH, 1564 Farmington Hills Drive, Conover, NC 28613, or click on the paypal button from our website at: www.scratchrescue.petfinder.com
__
Thank you for taking the time to consider helping us help Tiffany.