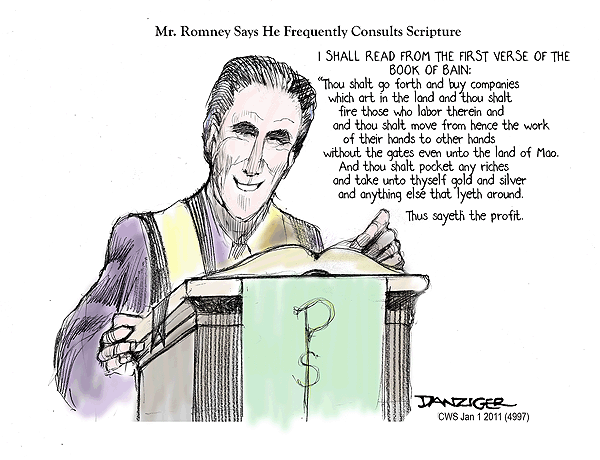 (Jeff Danziger's website)
From Matt Viser, at the Boston Globe's Political Intelligence blog:
MARION, Iowa – Mitt Romney, in his final sprint for votes in Iowa, launched into his harshest criticism yet of President Obama, saying that his policies would "poison the very spirit of America and keep us from being one nation under God."
__
"I've watched a president who's become the great divider, the great complainer, the great excuse-giver, the great blamer," Romney said at a garage of an asphalt company in Marion, a suburb of Cedar Rapids. "I want to have an America that comes together. I'm an optimist, I believe in the future of America. I'm not a pessimist."…
Yeah, give me a quarter-billion dollars in blood money, and I'd be optimistic too, putz. And to think there are courtiers in the Village who've wondered how it would be possible for the Democrats to stir up sufficient animous against the Romneybot 2012 model to bring the all-important Spite Voters to the polls in November. I've been warning you all: By the time the official coronation takes place in Tampa, every voter in America (and a selection of their smarter household pets) is going to loathe Willard Romney with a bile that could etch the windows of the space station.
Anything more positive and life-enhancing on the agenda tonight?