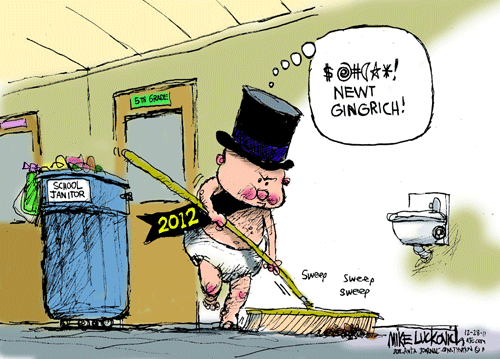 (Mike Luckovich via GoComics.com)
One reason the Media Villagers love Newt is that he can be counted upon to give good horserace. From NYMag's Daily Intel, "Battered in Iowa, Gingrich Plans to Rip Romney in New Hampshire and Beyond":
… The cause of Gingrich's downward spiral is clear enough: the relentlessly brutal and brutally relentless negative-ad barrage inflicted on him in Iowa since his surge in late November and early December. Indeed, something like half of the vast number of spots that have run here in that time frame have been assaults on Gingrich. The primary source of those spots has been the pro-Romney super-PAC Restore Our Future, which has spent something like $3.5 million on the effort. Gingrich has done nothing to disguise his ire at this turn of events; as the MSNBC host Alex Wagner has described his recent countenance, "The Teddy Bear is angry."
__
What the Teddy Bear has not done, however, is fight back—not in any effective way, at least. But at Gingrich's second event of the day—another meet-and-greet at another sports bar, this time in Marshalltown—he indicated that his passivity is about to disappear. After chatting and taking pictures with voters for about an hour, the candidate decided to conduct an unscheduled media availability. Among those present was another MSNBC host, Chris Matthews, who more or less took control of the proceedings, goading Gingrich by suggesting that he had let Romney's super-PAC "kick the shit" out of him.
__
More than any other candidate in the race—more than most politicians, period—Gingrich is perfectly happy to address process questions, adopting the mien of a hardened political consultant. Comparing himself implicitly to John Kerry, Gingrich complained that he had been "Romney-boated" by the negative ads. "I probably should have responded faster and more aggressively,'' he admitted. "If somebody spent $3.5 million lying about you, you have some obligation to come back and set the record straight."
Those are brave words for a one-note fat man. As Steve Benen points out in his Washington Monthly blog:
I'd genuinely love to know whether the disgraced former House Speaker is so far gone, he literally doesn't remember his own record. As Kevin noted a month ago, Gingrich is largely and personally responsible "for the poisonous state of partisan politics in America today."
__
To be sure, Gingrich didn't invent toxic partisanship, but looking back over the last three decades, no individual did more to create our nasty, vicious, and negative political climate than Newton Leroy Gingrich. Indeed, no one else comes close.
__
Hearing him complain about political maliciousness is akin to Mitt Romney complaining about dishonest rhetoric — it requires a stunning lack of self-awareness.
Newt's "solution", according to the Daily Intel piece:
Then Gingrich went on, incredibly, to lay out his post-Iowa strategy. "New Hampshire is the perfect state to have a debate over Romneycare and to have a debate about tax-paid abortions, which he signed, and to have a debate about putting Planned Parenthood on a government board, which he signed, and to have a debate about appointing liberal judges, which he did," Gingrich said. "And so I think New Hampshire is a good place to start the debate for South Carolina."
__
So there you have it: Gingrich, who trails Romney badly in the Granite State, plans to use the week between the caucuses here and the primary there to rip Romney a new one; and in doing so, weaken him in South Carolina, where Gingrich (for the moment) is polling strongly and is at the head of the pack. Now flush with a decent fundraising haul in the last quarter of 2011—around $9 million, he claims—Gingrich apparently intends to take to the airwaves to make his case, in addition to hammering Romney as a dreaded (and self-described, albeit long ago) moderate in the two debates scheduled for this weekend in New Hampshire…
Like all other sane people, in a match between Gingrich and Romney, I'm praying for injuries. Preferably fatal-to-both-parties'-electoral-chances injuries…