I'm ashamed to say that until Charlie Pierce in his own, powerful essay on MLK day pointed me to it, I had never actually read Lyndon B. Johnson's speech to Congress urging — almost ordering — the legislators before him to pass the Voting Rghts Act.
Here's a sample:
But even if we pass this bill, the battle will not be over. What happened in Selma is part of a far larger movement which reaches into every section and State of America. It is the effort of American Negroes to secure for themselves the full blessings of American life.

Their cause must be our cause too. Because it is not just Negroes, but really it is all of us, who must overcome the crippling legacy of bigotry and injustice.

And we shall overcome.

As a man whose roots go deeply into Southern soil I know how agonizing racial feelings are. I know how difficult it is to reshape the attitudes and the structure of our society.

But a century has passed, more than a hundred years, since the Negro was freed. And he is not fully free tonight.

It was more than a hundred years ago that Abraham Lincoln, a great President of another party, signed the Emancipation Proclamation, but emancipation is a proclamation and not a fact.

A century has passed, more than a hundred years, since equality was promised. And yet the Negro is not equal.

A century has passed since the day of promise. And the promise is unkept.

The time of justice has now come. I tell you that I believe sincerely that no force can hold it back. It is right in the eyes of man and God that it should come. And when it does, I think that day will brighten the lives of every American.

For Negroes are not the only victims. How many white children have gone uneducated, how many white families have lived in stark poverty, how many white lives have been scarred by fear, because we have wasted our energy and our substance to maintain the barriers of hatred and terror?

So I say to all of you here, and to all in the Nation tonight, that those who appeal to you to hold on to the past do so at the cost of denying you your future.

This great, rich, restless country can offer opportunity and education and hope to all: black and white, North and South, sharecropper and city dweller. These are the enemies: poverty, ignorance, disease. They are the enemies and not our fellow man, not our neighbor. And these enemies too, poverty, disease and ignorance, we shall overcome.
Pierce calls this "the greatest speech an American president has delivered in my lifetime."
Mine too.
One last thought: One strand I draw from Johnson's speech is that it is possible to have a politics that transcends the mere purchase and sale of interest; one in which words have both power and integrity.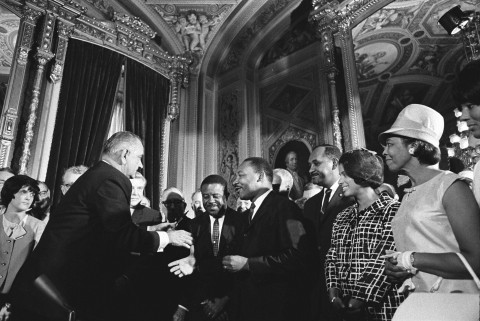 I want that politics back.
Update: Boss Bitch points us to newly recovered audio of an MLK speech to an Ohio High School in 1967.

Image:  Lyndon Baines Johnson with Martin Luther King on August 6, 1965, at the signing of the Voting Rights Act.