Via an emailer I learned of this story [Warning: really upsetting pet picture at the link. Here's the unillustrated Politico (sic!) piece on the same subject.]
Here's what happened:  Jake Burris, campaign manager for Ken Aden, who is a Democrat running for Congress from Arkansas 3rd district, came home last night with his four kids. One of the children got to the front porch first, and found the family cat dead, its head bashed in, and the word "Liberal" scrawled on its side.
And no, my wingnut friends, this is not one of those "both sides do it," moments.
I could go on and do some windy speculating about the nature of right wing politics as a traditionalist reflex in the face of implacable and (life-by-life) incomprehensible technological, economic and social change.
But really, all I can think is that these folks are sick, and dangerous, and need to be out of politics as fast as we can get them gone.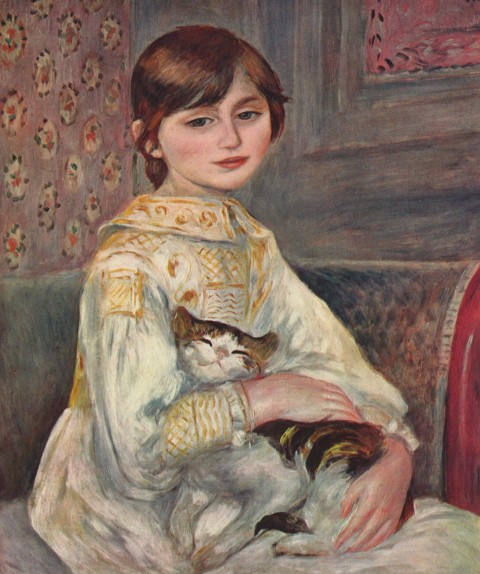 Pierre-Auguste Renoir, Portrait of Mademoiselle Julie Manet with her cat, 1887.