We had an organizing event here Saturday, at a diner.
Angela Zimmann was there, she's running for the US House: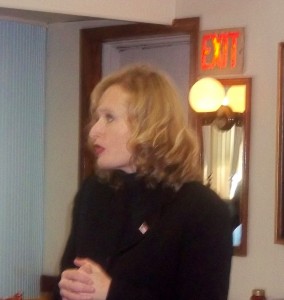 And John Vanover was there, he's running for the Ohio legislature. That is his first wife standing there with him: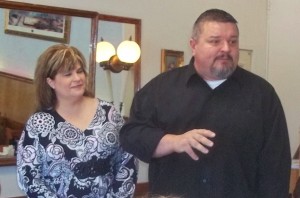 We talked about a lot of things, but I think I can safely say the GOP primary is good for Democrats, based solely on this tiny and unrepresentative sample. It's at least as reliable as my recounting an imaginary conversation with a cabdriver, so let's just go with it. They're really, really enjoying watching the GOP candidates duke it out, particularly the ultra-brilliant and learned Professor Gingrich, because they (of course) remember the old (real) Newt Gingrich, and not in a good way, either. A real walk down memory lane for them.
One other thing we talked about is how a local business owner has all but completed his conversion from Republican to Democrat. It isn't new this change of heart, he publicly endorsed Obama in '08, but he hadn't really joined with Democrats until this year, when he came to our banquet and agreed to meet with all of our candidates. It's a nice fit for us, too, because this business owner is not just a big employer, he's a big union employer.
This public conversion is important to us, because we believe we need someone who is trusted who might make it okay to vote for a Democrat, if a disgruntled Republican or wishy washy independent was leaning that way anyway. We need someone to go first.
It's especially interesting that our recent convert is sounding more and more like Woody Guthrie with each passing day because he is, in fact, a wealthy person. He and his family live quite modestly and unremarkably here locally, he lives close to where I live, but he also has three other homes in some really nice places. And a plane. He has a plane.