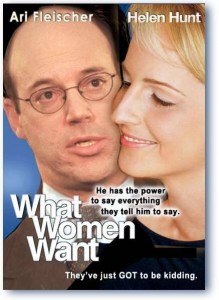 So, you are wondering, how do you ruin a successful brand and embroil yourself in a pointless controversy that scares the shit out of your corporate sponsors and enrages both the left and right wing of the political spectrum, all while doing it in such a ham-handed and offensive manner that you manage to get $3 million in donations to organization you want to destroy in just a few days? Hire this guy:
Ari Fleischer, former press secretary for George W. Bush and prominent right-wing pundit, secretly helped guide Komen Foundation's disastrous strategy regarding Planned Parenthood. Fleischer personally interviewed candidates for the position of "Senior Vice President for Communications and External Relations" at Komen last December. According to a source with first-hand knowledge, Fleischer drilled prospective candidates during their interviews on how they would handle the controversy about Komen's relationship with Planned Parenthood.
There is literally nothing the Bush gang can not screw up. Nothing. They have this reverse Midas touch, where everything they touch just goes to shit. They hire him to advise them into how to turn their vile theocratic fantasies into action, and here is what he accomplishes:
The outpouring of support online for Planned Parenthood and women in need of breast cancer screenings has been nothing short of astonishing, and because of it, the Planned Parenthood Breast Health Fund has received more than $3 million from thousands of people across the country in only three days.

Every dollar we received for this fund will go directly for breast exams and diagnostic services, as well as breast health outreach and education. And now that the Komen Foundation plans to continue their support, even more women will receive lifesaving breast cancer care.
Well done, Ari, Karen, and company. I can't remember another time when the ugliness of wingnuts led to a positive outcome. Well, there was also that 2008 election.
(photo via )