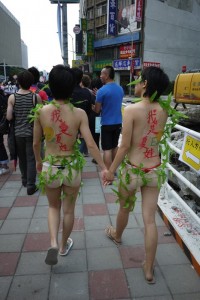 Reader Brian, who's been living and traveling in China and Taiwan, sent this photo of two women taking part in a LGBT parade in Taipei.
The one on the right side of the photo has the Chinese phrase "我是夏娃" written on her back. It translates to "I am Eve". The other one has "我爱夏娃" which translates to "I love Eve".
This is an interesting contrast to a couple of other posts about a woman he met in Shanghai, whose greatest dream as a child was to be able to eat meat three times a week. He also has one Taiwanese woman's take on Michele Bachmann.
Here's an open thread.