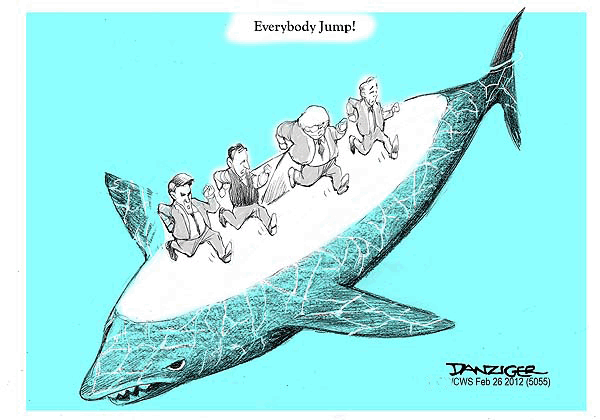 The scent of GOP flopsweat permeates the pixels. Erick "Voice of the GOP Gated Community" Erickson, whinging about "The Elephant in the Room":
He was the elephant in the room, so to speak, at the CNN Debate in Mesa, AZ. And this issue is why Campaign 2012 on the Republican side is so depressing.
__
The he is George W. Bush. And the issue is that Rick Santorum and Mitt Romney spent most of the debate campaigning against George W. Bush without using his name…
__
And that is what is so awful about this election season for so many conservatives. Santorum, Romney, and Gingrich are campaigning against major accomplishments of the Bush Administration that they, at the time, supported, and now have the audacity to lie to us — yes they are lying — and have us believe they would never have supported such big government programs…
__
Here's the long and the short of it — Super Tuesday approaches. I live in Georgia. And I am pretty sure I am voting for either Herman Cain or Rick Perry because I am just not sold on the final four.
__
Doghouse Riley mocks "the GOP's Great and Small White Hopes":
To me the twin mysteries of the 2012 Republican sweepstakes are these: 1) when did Republicans become so anti-Republican? and 2) why do people keep going to Mitch Daniels for quotes?…

Christie, appearing on CBS's "Face the Nation," twice said he does not want to enter the contest. "I'm with Governor Romney," he said. "And one of the things people know about me is that when I make up my mind, it pretty much stays made."
__
Daniels reiterated his long-standing position that he will not run. "I haven't played any games with anybody," he said in an interview. "Nothing has changed."
__
Still, he acknowledged that the nomination battle has kept the possibility of a late entrant alive."The fact that no one has sewn it up like previous cycles means it's a relevant question," said Daniels, who is neutral about the race. "It wouldn't have been a relevant question in previous cycles. This one's different in so many ways."

Yeah. Because your party's had it in so many ways. Just not in any ways which causes any of you shills, mouthpieces, and privateers to admit that something's seriously wrong. And not in ways that prevent you from having a 50% chance of getting power, and a 100% chance that whoever does get power will help you stay in the game. By god, I hate to admit it, but it was the people suckered by your "grassroots" Teabagger routine who came closer to changing our politics than anyone since the '68 Democratic convention. Found a shallow grave, didn't they?
__
Cast that Giant Brain around for a minute, Mitchkin. Climb down from the Ego Train (wait till the Redcap shows up with the kiddie steps) and look. They're talking about you and Chris Christie as the party's saviors. And you presume to lecture the rest of us with apocalyptic nightmares?
Even the Media Village's premier Mean Girl, exquisitely sensitive to every faint change in the DC winds (or windbags) curls her lip at the Ghastly Outdated Party:
Republicans have a growing panic at the thought of going down the drain with a loser, missing their chance at capturing the Senate and giving back all those House seats won in 2010. More and more, they openly yearn for a fresh candidate, including Jeb Bush, who does, after all, have experience at shoplifting presidential victories at the last minute.
Schadenfreude! It may not make a nourishing meal, but it sure is a tasty condiment. What other dainties are on the table this evening?