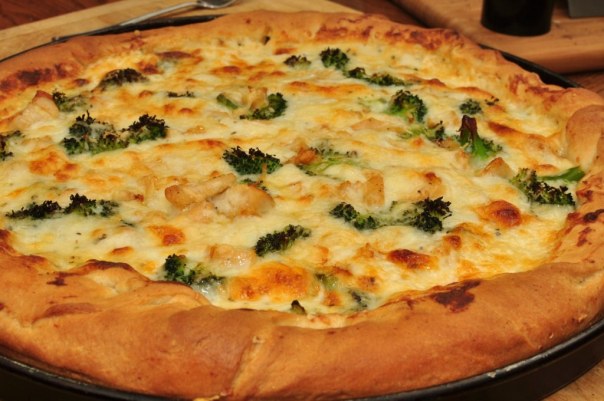 __
Via TaMara of Whats4DinnerSolutions, this week's Food God is JeffreyW:
I've Been Dreaming of a White Pizza
__
Not sure why but I got a notion to build a pizza with a white sauce today. I surfed around looking at recipes and went with what I would call a Mornay sauce if it was over pasta. Just a basic white sauce, a roux of flour and butter with milk added and cheese stirred in as it thickened. I grated some Parmesan and Romano for this one, about 2 cups. The white sauce was 2T each of butter and flour and a cup and a bit of milk. I splashed in a wee bit more milk when it looked like the sauce was a bit thick. I ended up troweling it onto the pizza dough. I stirred in some dried basil, was really wishing I had some fresh, and five cloves of smashed and minced garlic.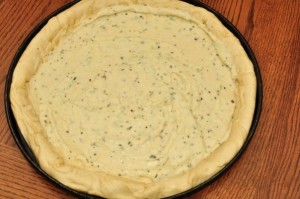 I layered in slices of mozzarella, and added blanched broccoli and diced grilled chicken. Grated some more Parmesan on top but I don't think it was needed.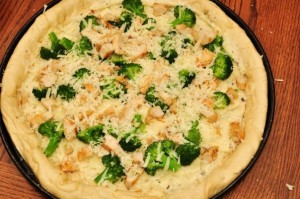 This went into a 375 oven. I looked in after 12 minutes and saw that it wasn't even close yet. I took the opportunity to brush some olive oil onto the crust. The sauce and the mozzarella combined into a roiling bubbly sea with islands of green dotted about and I was worried that the pizza would be a bust. It was smelling great, at any rate. I lost track of the time but I'd guess it was in there for another 20 minutes. I pulled it out when the top was showing some nice color.The sauce was still very liquid as it came out but it set up nicely as it cooled a bit and wasn't runny, relieving me of that particular worry….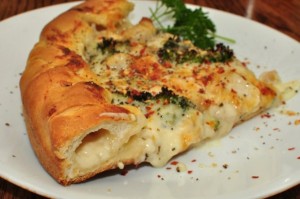 Much more, including JeffreyW's recipes for "Deep Dish Pizzas, a variety of pita pizzas and an array of pizzas topped with his Awesome Sauce" at the link. Give TaMara some click love!
Next week's Swap Topic: Rice.