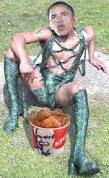 Time to move the Ni-CLANG clock one minute closer to midnight:
John Hood, president of the conservative North Carolina-based John Locke Foundation, has apologized for a very special graphic that one of his bloggers, "Hot Talk WRNN co-host Tara Servatius," included in her post for the think tank's blog this week. What is the controversy? All it did was show "President Obama in chains and drag with a bucket of Kentucky Fried Chicken." What is the controversy? Everyone loves Kentucky Fried Chicken! And look, Tara Servatius says she "didn't think about the racial implications of the picture when I posted it. I simply don't think in those terms." She's a fun one.
It's really just absolutely killing them that Obama is black. They've all completely lost their minds in incoherent rage, and they are so filled with repressed hostility that every now and then they lose track of the plot and something like this slips out.
And how is it even remotely possible that you wouldn't think of the racial implications of Obama in chains and drag with a bucket of fried chicken between his legs? How?