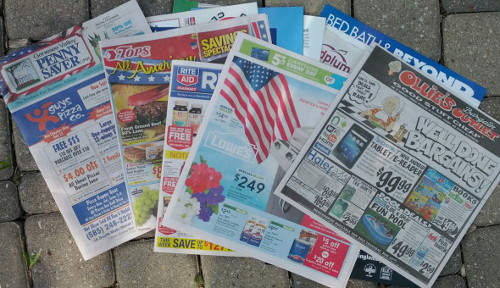 In the comments on my post on print newspapers the other day, there was a discussion about people who subscribe to the Sunday paper to get coupons. I don't subscribe to a Sunday paper, but my house is still full of coupons. This is a couple of day's worth that I fished out of the recycle bin. A few years ago, we got a fraction of the number of direct mail local coupons and circulars that we get today. This doesn't get as much publicity as Craigslist or Groupon, but it's a real phenomenon.
A couple of other comments mentioned that online advertising doesn't pay. Well, that depends on overhead and the type of ads you run. There are some ad-supported local news sites that are doing well. One is West Seattle Blog, which was the topic of some discussion at The Stranger a couple of weeks ago.
"We have never had investors, we have never had grants, we have never had savings, we don't have rich relatives, we don't have side-jobs," Record said. "Basically, we have lived entirely off our advertising revenue for going on five years now."

She wouldn't give out exact numbers, but said the site brings in six figures annually and is in the black.
If you look at the ads on that site, they're similar to what you might see in a neighborhood newspaper. This doesn't just happen in relatively well-off urban areas. In little Batavia, NY, The Batavian which is supported by local ads, has also been successful for years.
If you compare the ads at either of those sites to the ads in a typical online newspaper in a mid-sized metro area, the latter probably displays a bunch of ads that are unrelated to the local community. For example, until our local rag went behind a paywall, most of the ads it pushed out were just Google ads (similar to the ad at the top of this page). The local sites I mentioned above don't do that. All their ads are for local businesses, and some of them include deals that you can only get by seeing the ad, so readers are more likely to actually look at them.
I guess my general point is that there's still a lot of ad money floating around your town and mine. It's just not getting spent at your local newspaper. There are a lot of different ways that sites that do journalism can grab that revenue. There's not enough money to support one monolithic journalistic endeavor, but maybe there's enough to support a few smaller ones.