Y'all may have seen some version this image…it's been flowing through the 'tubes pretty freely: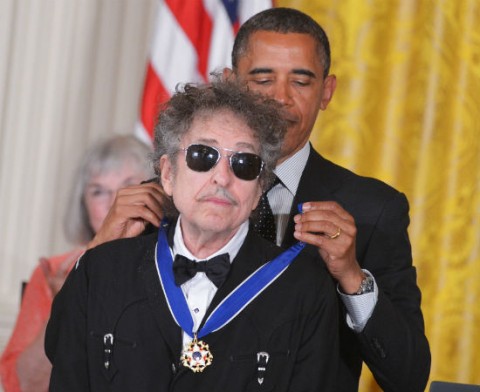 I have to say, the whole tableau cracks me up:  just look at Bobby Z.'s expression.
But beyond the momentary hit of the surreal contained therein, what you may have missed in the coverage of all this is the way Ha'aretz channeled its inner Bostonian when it introduced the article accompanying that  pic with this subhed:
Several members of the American Jewish community were among those awarded the Presidential Medal of Freedom on Tuesday by U. S. President Barack Obama.
Connoisseurs of the form will catch the echo of the iconic headline from  an '80s parody of The Boston Globe:  "Hub Man Dies In Nuclear Blast"– which topped a story about a nuclear explosion over New York.  I particularly enjoyed the subhed that ran something like "Boston Man, Eight Million Others Killed." (This is a joke that has endless variations.)  Ha'aretz has clearly taken notes.
You may consider this an open thread.