For all the talk about the awesomeness of the lean austere, Teutonic tiger, the US has higher GDP growth: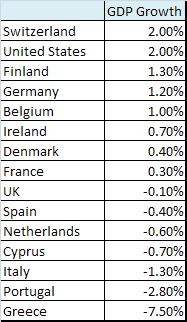 Things aren't so great for the other brave Burkeans: that English number is awful, especially given that the Olympic stimulus has already kicked in. This won't be enough to save the Uk economy, but it might mitigate the worst of the effects of austerity:
The Olympic Games 2011 (sic) will also give the UK economy a long term economic uplift; the event is expected to deliver a sustained stimulus worth a total of £5.1bn to the UK economy by 2015, according to Visa Europe.

This represents approximately 3.5% of the overall expected growth of the national economy over the 2013 – 2015 period.
Sadly, I think you're gonna find, when all this shit is over and done, I think you're gonna find that all the Very Serious People will agree that the brave Aryan Burkeanism of Cameron and the Germans saved the continent from the free-spending Keynesian wantonism of the swarthies.