I'm not sure if you all are experiencing the same thing, but so far this summer, I have noticed a real resurgence in two things that I have not seen in abundance since I was a kid- fireflies and monarch butterflies. I've seen more in the last couple weeks than I did in the last ten years combined. Not sure what is prompting that. Hopefully it means they are recovering and the bees will too.
On another note, remember this story from a little while back:
They were young males on the make, and they struck out not once, not twice, but a dozen times with a group of attractive females hovering nearby. So they did what so many men do after being repeatedly rejected: they got drunk, using alcohol as a balm for unfulfilled desire.

And not one flew off in search of a rotting banana.

Fruit flies apparently self-medicate just like many humans do, drowning their sorrows or frustrations for some of the same reasons, scientists reported Thursday. Male flies subjected to what amounted to a long tease — in a glass tube, not a dance club — preferred food spiked with alcohol far more than male flies that were able to mate.

The study, posted online in the journal Science, suggests that some elements of the brain's reward system have changed very little during evolution, and these include some of the mechanisms that support addiction. Levels of a brain chemical that is active in regulating appetite predicted the flies' thirst for alcohol. A similar chemical is linked to drinking in humans.
I must have the fruit fly equivalent of the Big Bang Theory cast in my backyard, and apparently the horniest fruit flies on the planet live here. I set down a glass of wine for about 2 minutes to go turn off the sprinklers, and when I got back, there were easily a half dozen fruit flies in my beverage. I drank the remains anyway, thinking the booze and my goat like stomache could handle it. CLASSY!
Also, too, the godson in his Texas Rangers gear: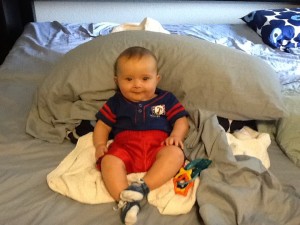 He's seriously the cutest little thing. I'm so grateful Ryan and Sarah allowed me into his life, and every time I see pictures of that little pudgy fella with his ear to ear smile, I, for just a second, understand you breeders.