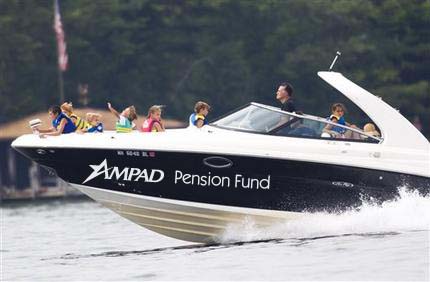 A look out how our Galtian hero Mitt Romney runs his business:
Thanks to leverage, 10 of roughly 67 major deals by Bain Capital during Romney's watch produced about 70 percent of the firm's profits. Four of those 10 deals, as well as others, later wound up in bankruptcy. It's worth examining some of them to understand Romney's investment style at Bain Capital.

In 1986, in one of its earliest deals, Bain Capital acquired Accuride Corp., a manufacturer of aluminum truck wheels. The purchase was 97.5 percent financed by debt, a high level of leverage under any circumstances. It was especially burdensome for a company that was exposed to aluminum-price volatility and cyclical automotive production.

Forty-to-one leverage is casino capitalism that hugely magnifies gains and losses. Bain Capital wisely chose to flip the company fast: After 18 months, it sold Accuride, converting its $2.6 million sliver of equity into a $61 million capital gain. That deal, which yielded a 1,123 percent annualized return, was critical to Bain Capital's early success and led the firm to keep maximizing the use of leverage.

In 1992, Bain Capital bought American Pad & Paper by financing 87 percent of the purchase price. In the next three years, Ampad borrowed to make acquisitions, repay existing debt and pay Bain Capital and its investors $60 million in dividends.

As a result, the company's debt swelled from $11 million in 1993 to $444 million by 1995. The $14 million in annual interest expense on this debt dwarfed the company's $4.7 million operating cash flow. The proceeds of an initial public offering in July 1996 were used to pay Bain Capital $48 million for part of its stake and to reduce the company's debt to $270 million.

From 1993 to 1999, Bain Capital charged Ampad about $18 million in various fees. By 1999, the company's debt was back up to $400 million. Unable to pay the interest costs and drained of cash paid to Bain Capital in fees and dividends, Ampad filed for bankruptcy the following year. Senior secured lenders got less than 50 cents on the dollar, unsecured lenders received two- tenths of a cent on the dollar, and several hundred jobs were lost. Bain Capital had reaped capital gains of $107 million on its $5.1 million investment.

Bain Capital's acquisition in 1994 of Dade International, a supplier of in-vitro diagnostic products, was 81 percent financed by debt. Of the $85 million in equity, about $27 million came from Bain with the rest coming from a group of investors that included Goldman Sachs Group Inc.

From 1995 to 1999, Bain Capital tripled Dade's debt from about $300 million to $902 million. Some of the debt was used to pay for acquisitions of DuPont Co.'s in-vitro diagnostics division in May 1996 and Behring Diagnostics, a German medical- testing company, in 1997. But some was used to finance a repurchase of half of Bain Capital's equity for $242 million — more than eight times its investment — and to pay its investors almost $100 million in fees.
I don't know about you, but I saw this movie before:
Tell me how what they did is any different from Paulie's bust-out of the Bamboo Lounge?