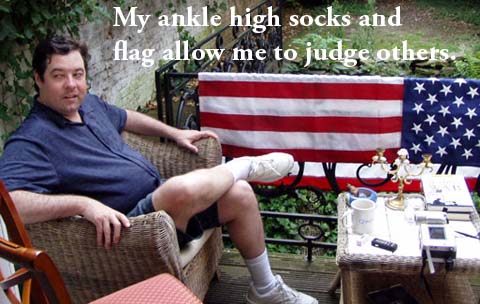 James Taranto, the WSJ rightwing nutjob whose job is the Best of the Web feature, which invariably means reposting whatever Glenn Reynolds or the halfwits at NRO write every day: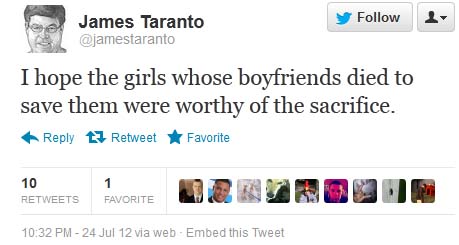 He is, of course, referring to the reports that a number of men used their bodies to shield their loved ones during the Aurora massacre. Most of us thought of this as a noble and amazing sacrifice, but to the American Taliban, these may have been slutty slut sluts who use birth control (or even worse, vote for Democrats!) and make their own decisions, so whether or not they deserved to be saved is up to wingnut judgment.
You know who got to make the decision whether their lives were worth it, Taranto? The three heroes who ate bullets saving their loved ones, not some fat scumbag neocon filth sitting comfortably with a glass of bourbon while wanking on twitter from the comfort of a wingback chair in Manhattan.
These people are sick. I thought once that Derbyshire had been shitcanned from the NRO we might make it through a national tragedy without this kind of crap, but I was wrong.
James Taranto, go fuck yourself.