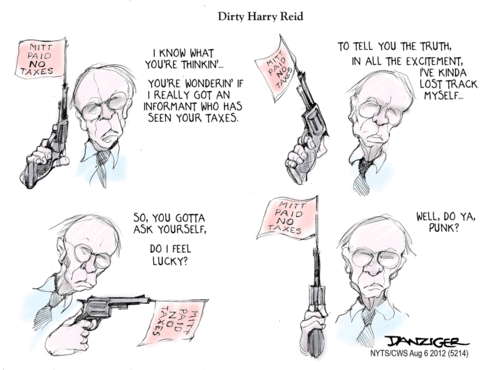 (Jeff Danziger's website)
__
Smart piece by Jonathan Chait at NYMag — "This Video Proves Romney Knows His Whole Campaign Is a Lie":
As an incumbent president presiding over a painfully slow recovery in which congressional Republicans, the Federal Reserve, and even his own bureaucracy can block recovery measures, Barack Obama can't run a "Morning in America" campaign. All he can do is try to convince voters that Mitt Romney won't make things better.

This is just descriptively true, but Romney's supporters have infused the description with tones of moral indignation. Republicans have been angrily accusing him of "distracting" voters from the economy…. Jeb Ellis describes Obama's strategy as "chemical warfare." Obama's strategy, he writes, "boils down to a simple question: can Mitt Romney be made so toxic as to enable the re-election of a president that a majority of voters would rather not re-elect?"

The unstated assumption here is that the race ought to be a referendum on Obama — and, in particular, a referendum on the lousy economy. But Romney's strategy here is itself completely cynical and dishonest. I'm fairly sure that Obama genuinely believes that Romney won't usher in greater prosperity. Does Romney himself actually believe that Obama deserves to be held accountable for the state of the economy?…

The Republican plan is to leverage public discontent over the current state of the economy into an election victory they can use to push through sweeping changes to public policy. Obama wants the electorate to vote on that instead. Now he has a good reason for wanting this: The entire thrust of the Republican plan, to cut tax rates for the rich and cut the social safety net, is highly unpopular. Why is Obama's approach of discrediting what he sees as the radical policies of the opposition less edifying from the standpoint of American democracy? And why is Romney's plan to have voters base their entire decision around a single performance metric he himself considers abject nonsense any better?
Click the link for video and more detail.
***********
Apart from the non-stop #GOPfailfest, what's on the agenda for the evening?