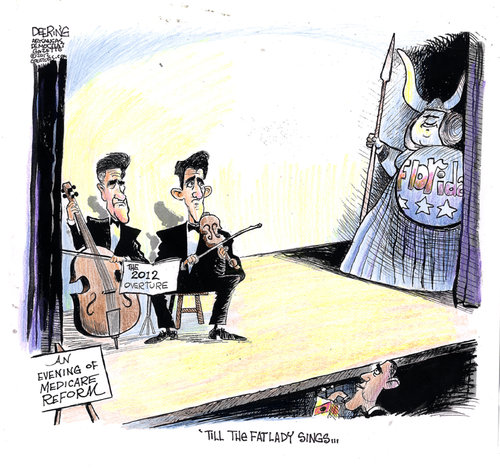 (John Deering via GoComics.com)
__
Paul Constant at Seattle's Stranger:
Republican Platform: No Abortion, No Gay Marriage, Trayvon Martin Had It Coming

The Tampa Bay Times has obtained a draft of the Republican platform, and it leans way, way to the right… If this document makes it—there's much more, including statements against affirmative action, stem cell research, and tax increases (except in cases of war), and a statement for posting the Ten Commandments on government property—it will mean the Republican Party doesn't care about moderates. They must believe they can win the presidency and Congress solely on people who support George Zimmerman, Todd Akin, and Focus on the Family….
By this point, whatever remnants of the Permanent Governing Party have survived in the RNC may be praying to their God (of the Invisible Hand) that newborn "longshot" Hurricane Isaac gives them an excuse to drastically downsize the competing violent bursts of hot damp air at the Tampa Bay Times Forum…
***********
Apart from sweet, sweet Schadenfreude, what's on the agenda for the evening?