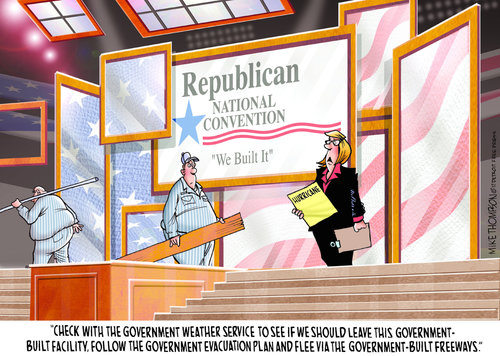 (Mike Thompson via GoComics.com)
__
All sorts of disturbances brewing. Per Allison Kilkenney, in The Nation:
Local Occupy Tampa activists will likely remain in place through the RNC, despite efforts to move the group from a West Tampa park, ABC reports. Protesters moved to Voice of Freedom Park back in January following the city evicting the group from downtown. West Tampa park is owned by strip club mogul Joe Redner who has given the group an eviction date of September 15.

"Occupy Tampa has stood in solidarity with Occupy Wall Street since its inception, and will function as the host occupation for the Republican National Convention in Tampa, FL on August 27th–30th, 2012," the group said in an official statement regarding the RNC, adding that ongoing preparations are being made for the convention protests, including securing sleeping arrangements for occupiers, in addition to canopies, sun screen and portable water containers for protection from the weather.

Occupy Tampa has formed a Regional General Assembly to coordinate Occupy groups throughout the bay area, including: Occupy Lakeland, Occupy St. Petersburg, Occupy Bradenton, Occupy USF, Occupy Port Richey and Occupy Sarasota…

"We invite everyone to come and take advantage of the preparations we have made, to help ensure that all occupiers and other supporting groups can use this moment of national attention to confront the political status-quo," Occupy Tampa states….
Our national security services are reacting, needless to say, with all the restraint and maturity we have come to expect from them.
***********
Apart from stocking up on popcorn (and praying that our Floridian friends & family don't suffer for the GOP's mistakes), what's on the agenda for the weekend?