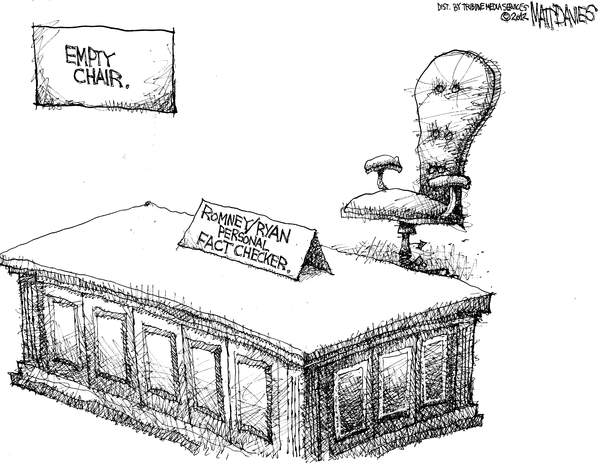 (Matt Davies via GoComics.com)
One last look back at the RNC panderfest, because when you've lost Maureen "Queen of the Mean Girls" Dowd, your "Cruel Masquerade Ball" is losing the Media Village:
MESSAGE: They care. Republicans care deeply. They really do.

They care deeply about making us think that they care deeply.

That's why they knocked themselves out producing a convention that was a colossal hoax….

… It was fitting that David Koch was the beaming financial god presiding over this Orwellian makeover of Republicans as generous communitarians who care about grandmas, cherish immigrants and defend Medicare, so movingly described by the vice presidential nominee who tried to turn Medicare into a voucher system as "an obligation we have to our parents and grandparents."

Koch leads the Orwellian movement of oil billionaires playing grass-roots activists. The industrialist ideologue wants to use his money to shrink government the way those vacuum sealers on infomercials suck the air out of plastic bags stuffed with clothes until they're a mere sliver — shriveling all the social services, environmental regulations and taxes on the wealthy.

Koch, who infuses gazillions to build up the Tea Party and tear down the president, was a member of the New York delegation. On Tuesday, he was in the hall, sitting in what had to be one of the most expensive single seats that anyone ever bought.

The stage show looked like America, but the convention hall did not. The crowd seemed like the sanctuary of a minority — economically wounded capitalists in shades from eggshell to ecru, cheering the man from Bain and trying to fathom why they're not running the country anymore. The speakers ranted about an America in decline, but the audience reflected a party in decline….

The convention rebranding as compassionate conservatives is encouraging in that it shows that Republicans feel they are at a disadvantage with their Ayn Rand disdain for altruism, their Kempian trickle-down economics stripped of the humanity of Jack Kemp, their worship of the wealthy as the engine of economic prosperity….Ryan's lies and Romney's shape-shifting are so easy to refute that they must have decided a Hail Mary pass of artifice was better than their authentic ruthless worldview.
***********
Apart from waiting for the next dispatch from the Excellent Adventure in Charlotte, what's on the agenda for the start of the shortened work week?