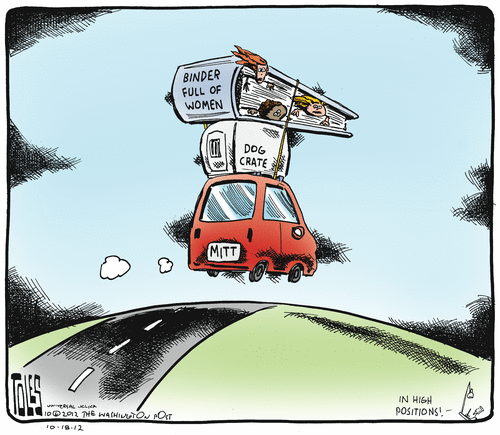 (Tom Toles via GoComics.Com)
__
Politico says the Hofstra debate helped at least one of those undecided questioners make up her mind:
Susan Katz, who asked GOP nominee Mitt Romney how he would operate differently than former President George W. Bush, said Wednesday she is going to vote for President Barack Obama…

"I was disappointed that the governor chose to first rebut what the president had been saying prior to my question being addressed to him," Katz said. "That seems to be his style. I found that disappointing. I thought the governor did a good job of laying out some ways he would function differently than President Bush had. Basically, throughout the night, I found it disconcerting that the governor needed to control things. That was a problem for me, and that was evident in the way he first answered my question."

Before answering her question, Romney addressed a point Obama had made about contraceptives. Katz said she thought Obama was someone "who listens instead of speaks."…
My emphasis. Was Ms. Katz offended that Romney found it more important to keep arguing with the other man on the stage than to pay attention to her question? Or did it seem (maybe subconsciously) that Romney looked at her, saw "woman", and assumed that she'd only be interested in "women's issues"?
I'm not sure how many men — especially white men from 'comfortable' economic circumstances — realize how sensitive women are to the pseudo-alpha-male Mad-Men masculine style that Amy Sullivan in TNR refers to as "Mitt the Jerk":
… Mitt the Man gets his way by talking over you and not stopping until you give in so he can make his point. Which he may have forgotten by then, because getting his way was the point.

Mitt the Man can go from charming to testy in two seconds flat because while he has tolerated you as a female colleague, he will not allow you to disrespect him and his authoritah!

Mitt the Man is not self-aware enough to realize that he can be easily goaded and that you are pushing his buttons.

Mitt the Man feels sorry for you as a single parent and your sure-to-be-screwed-up kids.

Mitt the Man cannot help but disappoint you because his chivalry is all about saying the right thing as opposed to doing the right thing….
If last week's polls were correct that President Obama's huge edge with women was eroding, I'd argue that it may have seemed from the first debate that he had stopped listening to what "his" voters wanted. Women (yes, and other not-really-minorities, not to mention anyone who works a service job) are hypersensitive about being ignored by the big, rich, powerful, important (mostly) men who run the world. During the Hofstra debate, the President made it clear that he was listening to the questioners — and to the female moderator — even when his reponses were, in political terms, less than fully responsive. I think this was every bit as important, for the purposes of the evening, as the genuine gains for women he could claim during his tenure.
If perceptions are 90% of politics, then Mitt Romney was every privileged jerk who's ever snapped an unreasonable demand at the lowly secretary or security guard or retail clerk without so much as looking us in the eye. It may give the daddy-seeking authoritarians a thrill up their legs to be treated like that, but when our crappy little individual votes are all the power we've got to affect how our lives and the world will be run over the next four years, some of us want the common courtesy of being acknowledged as fellow humans.