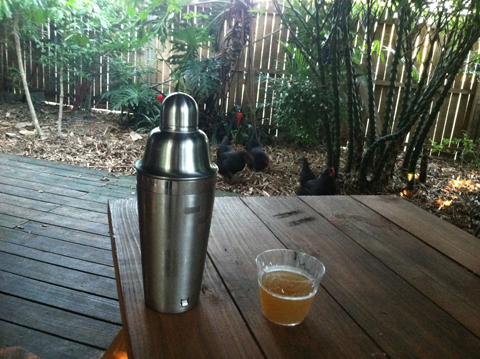 I realize it's early (at least on the Eastern coast of the US) to talk about cocktails, but I formulated a new recipe last night that I'm eager to share. And since there is a highly consequential debate tonight, you may want to get liquored up early so you'll be prepared to slur your encouragement to President Obama on the teevee, urging him to take the fight to whichever Rombot shows up.
I've loved the flavor profile of piña coladas ever since I tried my first several at age 12 via room service at a fancy beach hotel. My mother had foolishly left my sister and me to our own devices in our hotel room while she met friends for cocktails at the bar downstairs. After she was gone, I called room service and ordered two piña coladas (even at 12 I had a whisky voice and could thus pull this off). Why piña coladas? Maybe that dumb 70s song? Maybe because that's what people drank on "The Love Boat"? I don't know.
Anyhoo, my little sister and I executed our plan: When the room service dude came to the door with the drinks, I pretended to be Mom in the shower. I was sitting in the bathroom with the shower on, and I turned the water off when my sister knocked, opened the door a crack and took and signed the receipt my sister passed to me while the room service dude deposited our drinks on the table. It worked like a charm! It worked so well that we did it again, ordering DOUBLES in the next round and fortunately getting a different room service guy so our ruse continued to work.
We didn't get busted until we checked out and Mom wondered why there were charges for room service piña coladas (and a handsome tip) on our bill. But when we confessed, she was so impressed with our ingenuity that she just paid up and didn't punish us.
However, the characteristics that made the drink perfect for a pair of prepubescent rebels – the sugary taste, gloppy consistency and over-adorned presentation – made the piña colada distinctly less appealing to me as an adult. But I still like pineapple, coconut and rum.
Which is why yesterday evening, as hubby and I were wrapping up our kitchen renovation labors for the day and accepting the fact that we would have to face at least 24 more hours without plumbing, I started thinking about piña coladas with a more grown-up twist, and thus the Kraken Kolada was born. It's more of a martini-style cocktail than the alcoholic sundae that is the classic piña colada, but it delivers on the pineapple and coconut themes:
1 or 2 parts Kraken Black Spiced Rum
2 parts pineapple juice
2 parts coconut water (not coconut milk or, FSM forbid, coconut cream but coconut water)
I shook mine up with ice in the above-pictured cocktail shaker, and it was cool, refreshing heaven in a plastic cup (since we have no working kitchen sink or dishwasher to deal with dirty martini glasses). If you like rum but haven't tried Kraken, by all means do so. Even if you're normally not that keen on spiced rum. It's really good.
Anyone else have tasty cocktail recipes to share? Beer finds? Good wines? No? Then feel free to discuss whatever.
[X-posted at
Rumproast
]