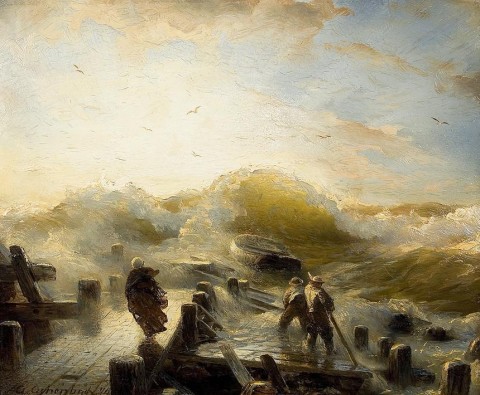 Picking up on what Dan Satterfield wrote at the American Geophysical Union website, this is how a responsible government gets the word out:
PUBLIC INFORMATION STATEMENT
NATIONAL WEATHER SERVICE MOUNT HOLLY NJ
241 PM EDT SUN OCT 28 2012

…AN EXTREMELY DANGEROUS STORM TO IMPACT THE AREA…

SANDY IS EXPECTED TO SLAM INTO THE NEW JERSEY COAST LATER MONDAY NIGHT, BRINGING VERY HEAVY RAIN AND DAMAGING WINDS TO THE REGION. THE STORM IS A LARGE ONE, THEREFORE DO NOT FOCUS ON THE EXACT CENTER
OF THE STORM AS ALL AREAS WILL HAVE SIGNIFICANT IMPACTS.

THIS HAS THE POTENTIAL TO BE AN HISTORIC STORM, WITH WIDESPREAD WIND DAMAGE AND POWER OUTAGES, INLAND AND COASTAL FLOODING, AND MASSIVE BEACH EROSION. THE COMBINATION OF THE HEAVY RAIN AND PROLONGED WIND
WILL CREATE THE POTENTIAL FOR LONG LASTING POWER OUTAGES AND SERIOUS FLOODING.

PREPARATIONS SHOULD BE WRAPPING UP AS CONDITIONS ARE EXPECTED TO WORSEN TONIGHT AND ESPECIALLY ON MONDAY.

SOME IMPORTANT NOTES…

1. IF YOU ARE BEING ASKED TO EVACUATE A COASTAL LOCATION BY STATE AND LOCAL OFFICIALS, PLEASE DO SO.

2. IF YOU ARE RELUCTANT TO EVACUATE, AND YOU KNOW SOMEONE WHO RODE OUT THE `62 STORM ON THE BARRIER ISLANDS, ASK THEM IF THEY COULD DO IT AGAIN.

3. IF YOU ARE RELUCTANT, THINK ABOUT YOUR LOVED ONES, THINK ABOUT THE EMERGENCY RESPONDERS WHO WILL BE UNABLE TO REACH YOU WHEN YOU MAKE THE PANICKED PHONE CALL TO BE RESCUED, THINK ABOUT THE RESCUE/RECOVERY TEAMS WHO WILL RESCUE YOU IF YOU ARE INJURED OR
RECOVER YOUR REMAINS IF YOU DO NOT SURVIVE. [Emphasis added.]

4. SANDY IS AN EXTREMELY DANGEROUS STORM. THERE WILL BE MAJOR PROPERTY DAMAGE, INJURIES ARE PROBABLY UNAVOIDABLE, BUT THE GOAL IS ZERO FATALITIES.

5. IF YOU THINK THE STORM IS OVER-HYPED AND EXAGGERATED, PLEASE ERR ON THE SIDE OF CAUTION.

WE WISH EVERYONE IN HARMS WAY ALL THE BEST. STAY SAFE!
Combine this with the presentation President Obama gave this morning, emphasizing the cooperation between the feds, state and local officials, and urging everyone to listen to what those folks are saying about what to do as Sandy does what it does so damn well.  What we are seeing is an object lesson in the rationale behind forming associations that extend beyond the immediate connections of family, neighborhood, even town or state.  Some of what the world challenges us with is larger than our daily compass contains.
Now I realize that's not a terribly profound thought — "banal" is the word I'd use to describe it — except for the fact that one of our major political parties rejects it, as does its nominee for the chief executive slot, the man who would have to administer the next response to a challenge that exceeds the capacity of the local sheriff to handle:
W. Mitt Romney's in his own words, as of June 13, 2011:
KING: What else, Governor Romney? You've been a chief executive of a state. I was just in Joplin, Missouri. I've been in Mississippi and Louisiana and Tennessee and other communities dealing with whether it's the tornadoes, the flooding, and worse. FEMA is about to run out of money, and there are some people who say do it on a case-by-case basis and some people who say, you know, maybe we're learning a lesson here that the states should take on more of this role. How do you deal with something like that?

ROMNEY: Absolutely. Every time you have an occasion to take something from the federal government and send it back to the states, that's the right direction. And if you can go even further and send it back to the private sector, that's even better.

Instead of thinking in the federal budget, what we should cut—we should ask ourselves the opposite question. What should we keep? We should take all of what we're doing at the federal level and say, what are the things we're doing that we don't have to do? And those things we've got to stop doing, because we're borrowing $1.6 trillion more this year than we're taking in. We cannot…

KING: Including disaster relief, though?

ROMNEY: We cannot—we cannot afford to do those things without jeopardizing the future for our kids. It is simply immoral, in my view, for us to continue to rack up larger and larger debts and pass them on to our kids, knowing full well that we'll all be dead and gone before it's paid off. It makes no sense at all. [emphasis added]
[
Via Joan McCarter at Daily Kos
]
It's always hard to know what, if anything, Romney actually believes when he says anything — but that's irrelevant. This is a straightforward expression of a view that emerges directly from the political philosophy his party now embraces.  That it's a cartoon version of actual civic thought is beside the point.  Here Romney says what his supporters actually believe, and it would behoove any American voter to think about that as we all watch much of the mid-Atlantic seaboard disappear underwater.
That is, there is a sermon to be heard on the text that Sandy is writing.
If you genuinely believe that the individual and the most immediate of his or her connections — family, neighbors, perhaps a town or even a single state — are the only legitimate authorities, then vote Romney and hope for the best.  (And please do recall that the last time we tried that approach on for size, we lost a major American city to wind and water.)
On the other hand, if it still seems to you that citizens may gain from associations that extend to the level of the nation — that it makes sense "to form a more perfect Union, establish Justice, insure domestic Tranquility, provide for the common defence, promote the general Welfare, and secure the Blessings of Liberty to ourselves and our Posterity" — then you know what to do.
G.O.T.V. time, friends
Oh — and one more thing:
Like the Man said:  stay safe.
Image:  Andreas Achenback, Storm at the Mole, before 1910