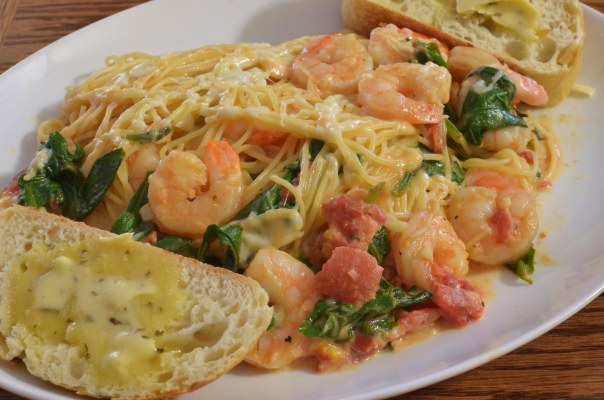 Shrimp and Pasta by JeffreyW
__
From our Food Goddess,
TaMara
:
I started this blog as a complement to my business of 10 years – I provided weeknight menus and recipes for busy families. It was a lot of fun. I've moved on to other things and the blog has evolved from just my simple recipes and flavor palate to guest bloggers, co-bloggers and lots of guest recipes. It's been a pleasant surprise.

But as the holidays approach and life gets busier, I wanted to come back to those simple recipes and highlight them several times a week. These are quick, fresh recipes that take about 30 minutes. And I swear to you, if you're not confident in the kitchen, these are foolproof. A way, I hope, to help alleviate some of the stress around this time of year. So tonight's recipes are in that vein.

First up: the photo above is from JeffreyW, it's a nice, quick Shrimp and Pasta dish that he liked well enough to make again. (recipe here). Next up is my quick Skillet Lasagna, recipe below.

What are some of your go-to recipes for those nights when there is no time to cook but everyone needs to eat? Do you have family favorites that everyone wants at least once a week? When I was a kid, I would beg my mom to make her rice crispy baked chicken.

Tonight's featured recipe is one of my favorites because it has a nice blend of flavors for a quick, skillet dish. I use dry spices because they are always in my pantry – make sure to crush them well to bring out the flavor in a dish that doesn't have the advantage of a long simmer. Use good quality mozzarella and ricotta to take it up a notch. Skip the ground beef for a vegetarian meal (I'd add some nice mushrooms instead) or spice it up with 1/2 Italian sausage and 1/2 ground beef. In other words, don't be afraid to change it up to fit your needs. For a side, try green beans or zucchini and you've got a nice, quick dinner.

Skillet Lasagna

8 oz bowtie pasta
1 lb lean ground beef
½ onion, chopped
½ green pepper chopped
1 tsp basil, crushed
1 tsp oregano, crushed
1 tsp crushed garlic
salt & pepper to taste
1 carrot, diced
15 oz can tomato sauce
6 oz can tomato paste
4 oz ricotta cheese
1 cup fresh spinach leaves, chopped
4 oz mozzarella cheese, shredded
2 oz grated parmesan
skillet, saucepan

In saucepan, cook pasta according to package directions, cooking to al dente (slightly chewy), drain well. Do Not Rinse (it inhibits the sauce from being absorbed by the pasta). Meanwhile, in skillet brown beef, onion & pepper. Add spices, garlic, carrot and sauté for 1 minute. Add sauce, paste, stirring well into meat mixture. Let simmer 10 minutes. Add pasta, stirring gently to mix. Mix together ricotta and spinach, spoon evenly onto mixture (do not stir in, you want to create little cheese balls), top with mozzarella, cover and let simmer on low until mozzarella is completely melted. Serve with parmesan. Serves 6 generously.