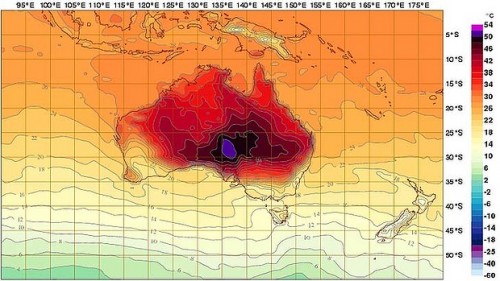 Greetings from Sydney, Australia.
Fires have devastated the south of the state of Tasmania, and scores of people are still missing. Meanwhile, hundreds of fires are currently burning across the eastern half of the country, including more than 20 that are listed as uncontained in NSW alone.
Outside my hotel in the city it's currently about 106 degrees (41C), and quite like sitting in an oven. A breeze seems to be starting up, but at the moment it's just moving hot air around. Temperatures at Fowlers Gap, near Broken Hill in the state's far west, reached 111.5 degrees (44.2C) at 2pm.
As the air mass over central Australia continues to heat up, the Australian Bureau of Meteorology has had to introduce new colors to their forecast maps (shown above for later in the week) for temperatures in excess of 122 degrees (50C).