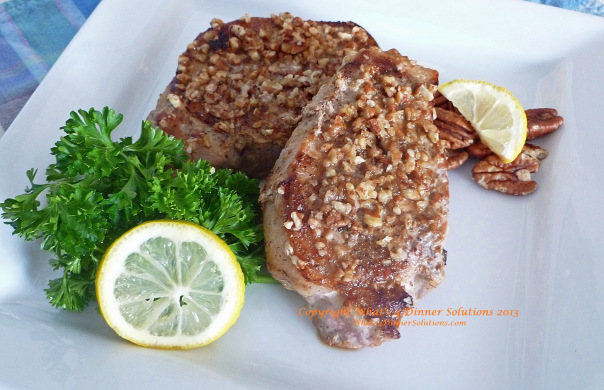 .
From our Food Goddess, TaMara:
I had some recipe testing and photography to do last week for another project, so I tried to group things together and buy ingredients in bulk. That inspired me to choose lemons as our ingredient for tonight's recipe exchange. A bag of lemons provided me with two of my favorite recipes last week. And this week I'll be working on a Chicken Piccata (same bag of lemons) but I didn't get it done in time for tonight's list. And, yes that's right, you're getting leftovers tonight.

The Tangy Lemon Pie got a makeover with a lemon cookie crust which won it rave reviews from my taste-testers, (recipe here)

JeffreyW gives us a a Lemon Garlic Basil Shrimp recipe, complete with a beautiful slideshow (recipe here).

When life gives you lemons, what do you make?

And tonight's featured recipe, which turned out better than I remembered. I hadn't made it in quite a while and had forgotten what a good combination butter, lemon and in this case, pecans are with pork.

Lemon-Nut Pork Chops

4 boneless pork loin chops (approx. 1/2 to 3/4" thick)
½ tsp crushed garlic
¼ tsp salt
¼ tsp pepper
¼ tsp lemon zest
1 tbsp butter
¼ cup finely chopped pecans or hazelnuts (the finer the grind, the better this works, if you have a coffee grinder that's best)
¼ cup lemon juice
1 lemon, quartered

skillet

Rub chops with garlic, salt, pepper, & zest. Melt butter in skillet on medium heat. Brown chops, 5 to 7 minutes on each side. Spread 1/4 nuts on plate. Remove chops 1 at a time and press 1 side into nuts. Add ¼ more nuts each time. Sprinkle any remaining nuts over chops. Stir lemon juice into pan drippings, deglaze, heat for 1 minute and spoon over chops. Serve with lemon wedges.