Last night my daughter was texting a friend and accidentally exposed herself to ridicule while complaining about chores by referring to our vacuum cleaner as "R2." She then had to explain that we've always called our vaguely droid-shaped, canister model after the Star Wars bot.
When I was a teenage pothead, I was a sort of MacGyver of bong and pipe-making, fashioning smoking implements out of such diverse materials as sweet potatoes, empty cigarette packs, shampoo bottles, etc. Once, while casting about for pipe-making materials at a friend's house, I asked if there was a "goodle" available: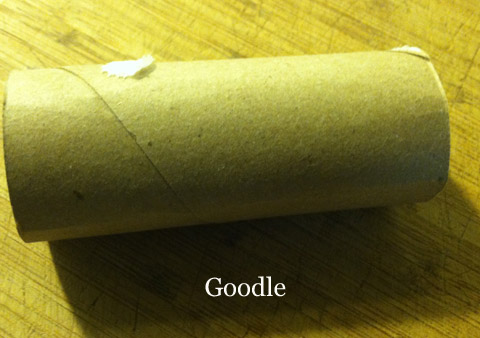 From the gaping incomprehension that greeted this request followed by a mortifying outburst of laughter when I explained what I meant, I learned that no one else calls the cardboard tubes that form the structure of paper towel or toilet paper rolls "goodles."
My siblings and I grew up thinking "goodle" was an honest-to-god, dictionary-certified word for an everyday item. Everyone in our family calls them that – aunts, uncles, cousins, etc. But it turns out my grandmother just made the term up because, as far as she knew, there wasn't a proper name for it, and she thought it should have one.
Do you use made-up words for nameless items or have nicknames for household things that occasionally slip into everyday conversation? Just wondering how widespread a phenomenon it is. Feel free to treat this as an open thread, even though it may qualify as serious research.
[X-posted at
Rumproast
]