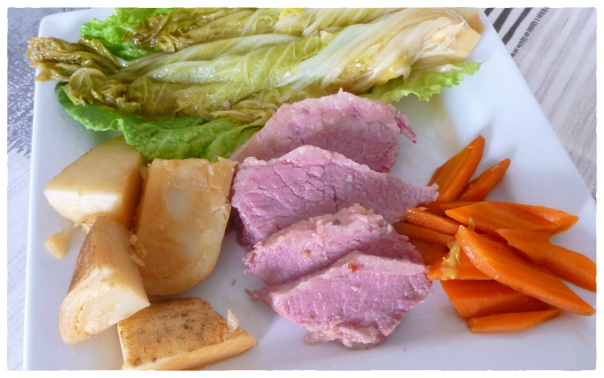 .
From our Food Goddess, TaMara:
I have made corned beef and cabbage a total of one time before prepping for tonight's recipe exchange. It was early in my marriage and I was having a ball trying out family favorites out on my own. I followed the recipe completely and what I got for my trouble was dry, stringy, tough meat. The veggies were ok if I remember correctly. I never tried it again.

But I love corned beef and cabbage and decided I needed to try to find a way to make it simple and foolproof. I'd been experimenting with my pressure cooker while reviewing a pressure cooker cookbook (which was horrible but that's a whole other post) and had a realization – the pressure cooker was the perfect solution to my corned beef cooking fears.

But don't worry. If you don't have a pressure cooker, I included a slow cooker recipe, too.
Corned beef is really one of the perfect foods to do in a pressure cooker. You get a nice, tender beef and instead of mushy, colorless vegetables, you get perfectly cooked vegetables infused with that great corned beef broth flavor.

The recipe below uses a bit of dill pickle juice in place of some of the water and a touch of spicy brown mustard. But I saw recipes that used chicken broth, sherry or beer in place of some of the water. I think you should experiment and use what sounds good to you. Me, I like dill pickle juice.

A lot of recipes call for 3-4 lbs of corned beef. When I shopping , 4 lbs was the smallest piece I could find, most were 5-6 lbs. You may have to cut a piece in half, but since both the pressure cooker and slow-cooker recipes are easy, you don't need to save corned beef and cabbage for a special occasion. Just freeze the other half and save for another day.

And the best part, making Reuben's with the leftovers. My mom makes the best ones, but I one up her by grilling mine Panini-style. Yum.

Are you a corned beef and cabbage household? Reuben fans? What about cooking disasters? Have any good stories about your failures in the kitchen?

On to the recipes:

JeffreyW tackles corned beef dinners here and here.

And he loves the leftovers – see his gallery of Corned Beef Sandwiches here.

(you know there'll be pretty pictures at those links)

And my family weighs in on their favorite ways to fix corned beef. (click here)

Now the featured recipes:

Pressure Cooker Corned Beef Dinner:

3 to 4 lbs corned beef, trim the fat to about 1/4 inch
Water
Spices included with corned beef or the following: 1 tbsp black peppercorns, 1 tbsp mustard seeds, 1 tsp fennel seeds,
2 bay leaves
2 garlic cloves, crushed
1 tbsp spicy brown mustard
Salt and pepper to taste
4 – 6 medium to large potatoes, cut into four to eight pieces, peeling optional
4-6 carrots, sliced in half and cut into 2" lengths
Cabbage, cut into 4 to 6 pieces
pressure cooker and cooking rack

Remove the corned beef from the brine (discarding the brine), rinse thoroughly and place in the bottom of the pressure cooker, fatty side up. [You don't really want to brown this beef, because it's been brined.] Sprinkle spices over the top of the beef. Add enough liquid (water or water and a combination of ONE of the following: pickle juice, chicken broth, beer or wine) to come to the top of beef, about 3-4 cups usually. Cover and bring to pressure and let cook for 1 hour. I use the cold water method to depressurize.

The key to getting the perfect corned beef and vegetables with the pressure cooker is to cook them separately. Prep the vegetables during the last 15 or so minutes of beef cooking time. Once the beef is done, put it on a cutting board, cover loosely in foil and put a towel over the whole deal.

Remove all but enough liquid to come to the bottom of the cooking rack when placed in the pressure cooker. Place potatoes first on the tray, then carrots and then cabbage, cover and bring to pressure. Cook for about 12 minutes. The vegetables will be fork tender, not mushy and the beef will be fully rested. Slice, plate and serve.

For the slow-cooker:

Place rinsed beef in the bottom of the slow-cooker, sprinkle spices and add liquid to come to the top of the beef, and cover. Cook on low for 4 hours. At the 4 hour mark, add in order: potatoes, carrots and cabbage. Cook additional 4 hours. With the exception of adding the vegetables, try to resist the temptation to open the lid. You need it to stay covered to properly cook.

There you go, some easy ways to put together a nice corned beef dinner.

Interestingly there seemed to be a green cabbage shortage last week. I went to three different grocery stores and they were completely sold out. I didn't want to use red cabbage because I don't really like it. I decided to use Nappa cabbage and really liked it, much more than green cabbage, it's sweeter and has a more delicate flavor and I think it will be my cabbage of choice from this point forward.