Every couple of months for the last few years, my parents (I am sure at my father's behest) have been cleaning out the nooks and crannies of the house they (and we) have lived in for 40 years. I snarkily refer to it as cleaning before dying, but they are just basically going through the house and dealing with old bullshit and making space for new bullshit. Every time they do it, I am the recipient of a bunch of crap that I know is supposed to be meaningful, but really, it boils down to my mom not being able to throw shit out, my dad refusing to not throw shit out, so they compromise and distribute the stuff to the kids. At any rate, today's haul included a bunch of Steelers paraphernalia my mother had accumulated and this: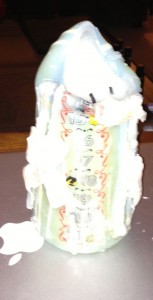 That is a ginormous birthday candle that each and every kid got when they were born, and every year, you burned it until it went down to the next year, at which point you stopped. My parents were such good parents.
What cracked me up, though, was that my candle, instead of being burnt to the ground when I hit eighteen, stopped at age fifteen, which was about a year after I became THE BIGGEST ASSHOLE TEENAGER ON THE PLANET. Seriously, I was that bad. I was awful to my parents, awful to my siblings, completely self-centered and self-destructive, nd just a fucking total tool. If I listed some of the horrible awful things I did as a teen-ager to my family, half of you would quit reading this website. I remember one holiday meal where HORMONES something pissed me off and I threw an entire glass of milk on my dad, then ran out of the house as he chased me and I ran backwards down the street yelling "You can't catch me fat man, I've been playing soccer and lacrosse and running all day every day for years." Yeah, I was a dick. I remember graduating from basic training years later and my dad almost crying and talking to my drill sergeant and telling him "How did you do this in 16 weeks? I had 18 years and came up with no answers."
So I laughed when I saw the candle. It was as if my douchebaggery as a teen was sealed for all time in amber- "AGE 15- when John G. Cole was affirmed as a total dick."
Fortunately, as many of you long time readers can understand, life is full of second acts. I live down the streets from my folks now, having moved back a few years ago because in part I regretted leaving the way I did, and all of that bullshit seems like a different lifetime ago. Maybe I am just easier to deal with now than I was then (let's be honest- cancer is easier to deal with than me as a teen), but they seem to kind of like me these days. Never underestimate the ability of those who love you to forgive.