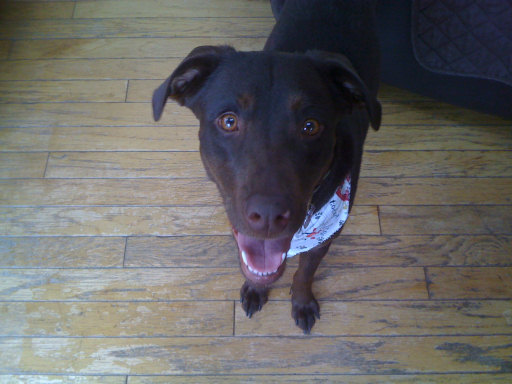 .
For those of you who don't get to read Balloon Juice on the weekends, Koda finally got to Pittsburgh on Friday night, and she's doing just great in her new home, reports GEG:
These are from yesterday when things started calming down a bit and Koda got to meet John's daughter Kaitlyn. Otis [the Golden] is still a bit POed at this young usurper, but there have been no real fights, just some growling and grumbling. Even when she stole his treat last night and ate his breakfast this morning. He's such a sweetie and he just came whining to us like a teenager with a toddler for a sister who keeps taking his things and messing them up. She slept in our bed last night and that is only possible because she is the best leaper I've ever seen because our bed is so high that when I sit on the edge of it, my feet don't touch the floor and I'm about 5'6". And she did it from a standing position, no running start. She's amazingly smart.

I wish I had had enough light this morning to catch her first snow adventure. She rolled and jumped and simply was overjoyed about it. It was funny. If it sticks, I'll try to get some tonight.
And here's a note from Jenna, which I've already forwarded to everyone who contacted me directly:
Koda is officially one of the GEG clan, she got to Pennsylvania safe and sound and is acclimating beautifully. From what I hear and the photos I've seen so far she's quite the little missing puzzle piece they've been looking for. I wanted to send an email and ask you to pass it along to everyone that you contacted, that way people who were able to help and also people who weren't but had good wishes and prayers can know how wonderfully this has turned out. I'll post in a thread tomorrow for those that may not receive the email but will appreciate hearing the outcome. When I first rescued Koda, I knew things were going to be rough – but my goal was always to make sure that she was in the best care possible. After I realized that the best care was not going to be in my hands, I had a really rough time figuring out what to do about such a precarious situation. Elijah [Isquith] sent me to you, which has been the best blessing I could have asked for, because this community has helped not only find the perfect forever home for my little baby girl, but also to get her there. I would never have been able to afford the relocation if not for everyone's support, and I hope I can pay it forward someday… Endless gratitude to Gail, John and Otis, and the entire BJ community for this rescue.