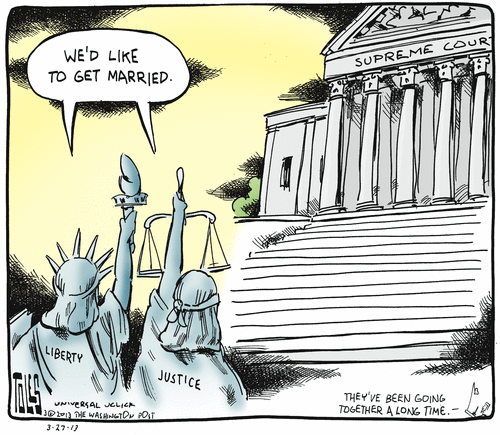 (Tom Toles via GoComics.com)
Maureen Dowd, in the NYTImes, on "Courting Cowardice":
…Swing Justice Anthony Kennedy grumbled about "uncharted waters," and the fuddy-duddies seemed to be looking for excuses not to make a sweeping ruling. Their questions reflected a unanimous craven impulse: How do we get out of this? This court is plenty bold imposing bad decisions on the country, like anointing W. president or allowing unlimited money to flow covertly into campaigns. But given a chance to make a bold decision putting them on the right, and popular, side of history, they squirm…

Donald Verrilli Jr., the U.S. solicitor general arguing on the side of same-sex marriage, told the justices, "There is a cost to waiting." He recalled that the argument by opponents of interracial marriage in Loving v. Virginia in 1967 was to delay because "the social science is still uncertain about how biracial children will fare in this world."

The wisdom of the Warren court is reflected two miles away, where a biracial child is faring pretty well in his second term in the Oval Office…
Apart from seeking justice, what's on the agenda for the day?