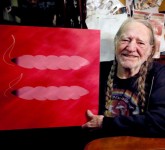 (Garry Miller, for Texas Monthly)
.
Texas Monthly has an exclusive interview with foxy grampaw Willie Nelson:
TM: But to be clear, you think everybody should be able to get married?

WN: Absolutely. I never thought of marriage as something only for men and women. But I'd never marry a guy I didn't like.
"Images available for download… for use as avatars on your Facebook or Twitter account" available at the link.
And here's the title song, which is probably NSFW under strict high-corporate standards.