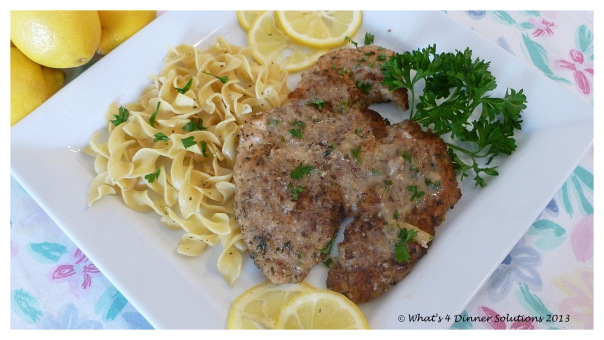 .
Held over from last week, because too much news. From our Food Goddess, TaMara:
I think because winter moved back into the neighborhood (seriously, Tuesday's forecast was for honest to goodness 'ice pellets', can 'raining frogs' be far behind?) I am finding myself in a berry and citrus mood. I bought 3 lbs of strawberries over the weekend and they are gone. I stocked up on oranges yesterday and I'll have to do it again by the weekend.

I was going to do a sirloin roast tonight. I had made a really nice one last week, but didn't get around to photographing it, so I was going repeat it yesterday. But when it came down to it, I just didn't feel like roast. Instead I grabbed a bunch of lemons and some chicken breasts and decided on Chicken Piccata, tonight's featured recipe. I like the tangy sauce with the crispy, moist chicken and the herb noodles are a nice side to accompany it.

If spring ever arrives, what do you look forward to most in the produce aisle? Do you crave certain foods by season? Hit the comments and complain about the weather and share your favorite spring foods.

Of course, once I found my recipe, I went hunting to see what JeffreyW might have in the way of lemons and chicken and found a Chicken with Lemon Curd, that sounded yummy. You can see it here, along with a nice slideshow of the prep and final dish.

Now, tonight's recipe:

Chicken Piccata with Herb Noodles:

Chicken Piccata

1 cup Italian breadcrumbs
1 tsp basil, crushed
1 tbsp lemon zest
1/8 tsp pepper
1 tsp crushed garlic
½ tbsp olive oil
4 boneless chicken breasts, pounded flat
1 tbsp butter
1 tbsp olive oil
1 lemon, sliced into very thin slices*
½ cup water
2 tbsp fresh snipped parsley
3 tbsp lemon juice
bowl, skillet

Combine breadcrumbs, basil, zest, and pepper in bowl. Mix ½ tbsp oil and garlic together. Coat both sides of chicken with oil/garlic and dredge in breadcrumbs. Over medium-high heat 1 tbsp ea. of butter and oil in skillet, add chicken and cook 4-5 minutes on each side. Remove chicken – keep warm – add lemon slices to pan, sauté 30 seconds, add water, parsley and juice, boil for 1 minute, spoon over chicken.
*Scrub well before slicing.

Herb Noodles

12 oz egg noodles
2 tbsp butter
½ tsp salt
¼ tsp pepper
½ tsp basil, crushed
½ tsp oregano, crushed
½ tsp rosemary, finely crushed
¼ tsp crushed garlic
Sesame seeds, opt
saucepan, serving dish

Cook noodles according to package directions. Drain well. Melt butter in saucepan, add spices, mixing well. Toss with noodles. For an extra touch you can add 1 tbsp of sesame seeds.