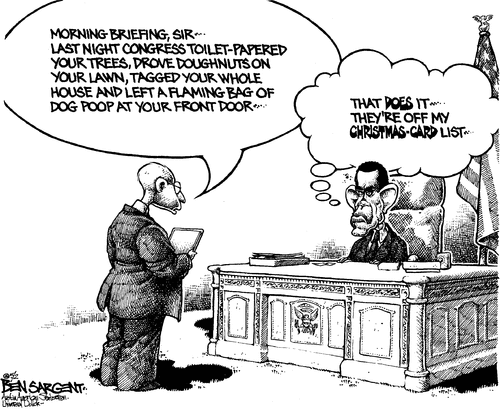 (Ben Sargent via GoComics.com)
.
Tim Egan, in his NYTImes blog:
… Much has been said about how the great gerrymander of the people's House — part of a brilliant, $30 million Republican action plan at the state level — has now produced a clot of retrograde politicians who are comically out of step with a majority of Americans. It's not just that they oppose things like immigration reform and simple gun background checks for violent felons, while huge majorities support them.

Or that, in the aggregate, Democrats got 1.4 million more votes for all House positions in 2012 but Republicans still won control with a cushion of 33 seats.

Or that they won despite having the lowest approval rating in modern polling, around 10 percent in some surveys. Richard Nixon during Watergate and B.P.'s initial handling of a catastrophic oil spill had higher approval ratings.

But just look at how different this Republican House is from the country they are supposed to represent. It's almost like a parallel government, sitting in for some fantasy nation created in talk-radio land…

The Beltway chorus of the moment blames President Obama for his inability to move his proposals through a dunderheaded Congress. They wonder how Republicans would be treating a silken-tongued charmer like Bill Clinton if he were still in the White House. We already know: not a single Republican voted for Clinton's tax-raising budget, the one that led to our last federal surplus. Plus, they impeached him; his presidency was saved only in the Senate.

Obama may be doomed to be a reactive president in his second term, with even the most common-sense proposals swatted down because, well — if he's for it, Republicans will have to be against it. What could be a signature achievement, immigration reform, faces quicksand in the House. But a gerrymander is good for only a decade or so. Eventually, demography and destiny will catch up with a Congress that refuses to do the people's bidding.
While we wait for the tides to turn, what's on the agenda for the weekend?