I'm a little bit embarrassed to admit this, but it is 10:30 and I am absolutely fucking guttered. I'm like a pint away from streaking. Some really close friends of mine are going through the death knell of their marriage, and I had one half of the couple over here for a couple hours and we had cocktails and cranked music and ate some BLT's and there were tears. The whole thing is sad but has been going on for several years, so it's not like this was unexpected, but when you love both of them you feel bad.
I hate to destroy an illusion I have created over ten years because I know you all think I'm just a loud mouthed prick and an insensitive dick, but I'm actually pretty empathic and really ok at providing solace and comfort (I spend a lot of time worrying about people and trying to fix things beyond my control and then feeling bad because I simply can't. A lot more time than I feel comfortable admitting, actually…). I'm not so bad at just shutting the fuck up and listening and, well, just being there when someone needs you to be there, and more often than not, people in their worst moments of crisis don't want your solutions, they just want to be heard and maybe a hug. I learned a long time ago that a lot of time I can't solve shit, so offering suggestions in these situations is worthless. Just shut up and be supportive, and I may have a non-clinical approach, in that I not only listen, but I pour big drinks and cook and play music, but it works for me. I mean. They are your friends and you love them. Sometimes just being there is enough.
At any rate, I'm shitty, two of my friends are sad, and I am now listening to the Parliament.
*** Update ***
I heard a request for Lily pics, and I answer. Yes, it is fuzzy. But here she is two mins ago: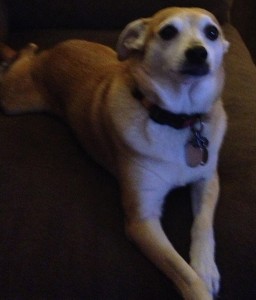 I have moved on to OMD. For some reason I am craving Green Day and the Nine Inch Nails, so I think they are next.