Trying to think of something cantankerous and obnoxious to say to troll you all for a couple hours, but believe it or not, I am coming up blank. Hard day to blog today because I have decided I would rather shower in prison than talk about Benghazi anymore.
The best thing about this Benghazi bullshit (other than it being a complete and total nothingburger) is that even the press is starting to lose interest. That became clear to me yesterday when I saw this bullshit: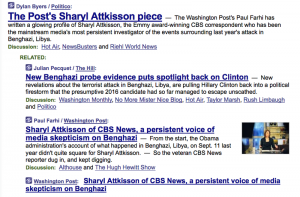 That was 2 pm yesterday. The surest sign that a manufactured media feeding frenzy is about to fizzle out is when they run out of chum and linkbait for the right wing media and then start to turn inward and eat each other. A WaPo piece on the wingnut CBS journo pushing this nonsense followed by a Politico "inside the media" analysis about how she has a sad with the CBS execs and may be quitting her job to go a different network FOX is much like when you cover a lit candle and the flame briefly gets bigger and laps the top of the cover before flickering and then going out with a tiny puff of smoke.
Fox will still cover it, and I'm sure Tapper at CNN will still write some nonsense every now and then to blunt criticism from wingnuts that he is a biased liberal, but it really looks like we are near the end of this nonsense. Unless Hillary is the nominee in a couple years.
*** Update ***
Damnit. This is totally unrelated to the rest of this post, but I have to vent. I was going through STARZ to find a movie to sort of fade off to while peting the dogs, found Total Recall, said "HELL FUCKING YEAH," started it, and it was the god damned remake. For those of you who understand, thank you.