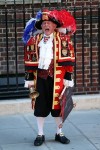 Per NYMag's ladyblog:
Kate Middleton's baby is HERE! Third in line for the throne, the little prince weighed eight pounds, six ounces and was born at 4:24 p.m. this afternoon… Ahead of the traditional announcement, which consists of the baby's gender, weight, and time of birth written on a piece of paper and placed on an easel in front of Buckingham Palace, the royal family made a last-minute decision to issue a formal press release via e-mail at approximately 3:36 p.m. E.T. (8:36 p.m. London time). Clarence House also tweeted the news, adding that all parties are healthy and will remain in the hospital overnight…
Best comment I've seen so far:
"They already live off the government & now they're having more kids?" -My thoughts on the #RoyalBaby

— Hari Kondabolu (@harikondabolu) July 22, 2013
Add yours in the comments, unless you'd rather talk about something else.