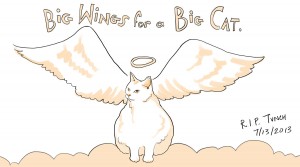 Had some great chats with the folks from MARC, and the final tally (as of now, so I guess maybe it isn't so final after all) is $15,868.00, which is mind boggling.
I'm sharing an email from April, who does the weekly runs to the spay/neuter clinic an hour away, taking 20 animals every time and spending all day waiting for the surgeries to be performed, and she had this to say after I asked about long-term plans to build a no-kill facility:
John,

I want you to be assured that we will keep our program well rounded and work on all facets of animal welfare, so that we can make the most possible progress in this area. There have been quite a few rescuers in Marion County before, but they didn't try to do it ALL. Rescue, Teach, and Prevent. I hope we can move mountains by changing the way rescue is done.

We will never give up on being a no kill community. We are working closely with all 4 mayors trying to get them to let us help them be build and aim for no kill shelters. Its a huge job. Our rural county is so slow to realize that animals should be treated like family. They are not possessions to be chained out and barely tolerated. We have rescued about 450 animals in the last 16 months. That's a lot for a tiny group. :) We don't always brag about what we have done, but I think we might start MAKING the time to share our happy endings. We want a no kill shelter in our area, but we feel that we have to first teach the people to stop allowing so many unplanned pet pregnancies. I do feel that we are making some real progress. Our dream is that one day that an open intake no kill shelter will be very possible. But our county has had some very bad history of shelters gone berserk. One opened up about 10 years ago in a hot metal building. The group (whom we don't know) had good intentions I felt, but didn't realize that within the first month there would be 500 dogs brought in. They weren't prepared to spay and neuter and vaccinate them all. It turned into a nightmare. Germs spreading, dogs breeding etc. We are gun shy of the shelter concept here, because the common citizens think its a place to dump their puppies and don't get the mother and fathers fixed.

If there is another community shelter, it will not be like that one. And we are hoping to get a spay and neuter clinic to offer the free spays that most of the low income citizens need here. Then, when there is a great no kill shelter, the intake numbers can be manageable and the animals will receive the love, attention and vet care they need while they are in the shelter.

Living in a county with no animal control is a challange. Marion county actually has feral dogs here. Sounds absurd to people like us who aren't from this rural area. They are dumped, then breed and raise entire litters of pups terrified of people. We have our hands full. But MARC has a great Mother and Puppy program that will take in any Mom and young litter of pups, so people are slowly learning not to dump them on the side of the road. I love the work we are doing and we will never stop helping the animals and people in this community. We are hoping our building for our Spay /Neuter clinic will actually be more like a community animal center. We want to have a food bank where we can offer food to low income families to help them keep and learn to care for their animals, spay and neuter them all, and teach their children grow up with higher standards for how animals should be treated.
If it isn't obvious, these people have really good heads on their shoulders, big plans, and I trust them completely.
On a completely unrelated note, here is a picture of my sister wakeboarding on the river in Pittsburgh, and I just thought it was a super cool photo: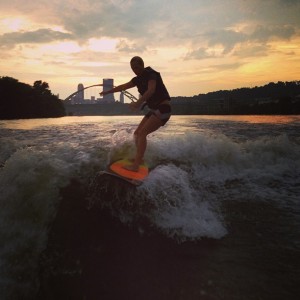 Time for some dinner. Searing a pork tenderloin, steaming some spinach, and making red beans and rice.