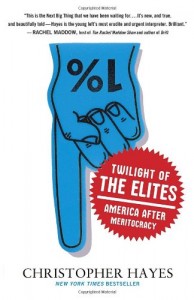 Chris Hayes' book Twilight of the Elites: America After Meritocracy has just been released in paperback. Thanks to Crown Publishing's generosity, I have a signed copy waiting for a lucky Balloon Juice reader.
Per David Daley at Salon:
"Twilight of the Elites" is a story about inequality and myths: the myth of the meritocracy and the reality of the very uneven society that allows those, in the words of Ann Richards, who were born on third base to end up thinking they hit a triple — and then find themselves protected when they screw up.

As Hayes writes:

"Along with all the other rising inequalities we've become so familiar with — in income, in wealth, in access to politicians — we confront now a fundamental inequality of accountability. We can have a just society whose guiding ethos is accountability and punishment, where both black kids dealing weed in Harlem and investment bankers peddling fraudulent securities on Wall Street are forced to pay for their crimes, or we can have a just society whose guiding ethos is forgiveness and second chances, one in which both Wall Street banks and foreclosed households are bailed out, in which both insider traders and street felons are allowed to rejoin polite society with the full privileges of citizenship intact. But we cannot have a just society that applies the principle of accountability to the powerless and the principle of forgiveness to the powerful. This is the America in which we currently reside."

The anchor of MSNBC's "All In" every weeknight at 8 p.m. Eastern, Hayes has quickly become one of the country's most essential public intellectuals….
Since it worked so well for our last giveway, I'm going to use the same system. WordPress willing, I'll put up a post this evening, titled "CONTEST: Twilight of the Elites Giveaway". Everybody who's interested gets one entry, one comment. (Duplicate comments will get you eliminated.) The contest will stay open until Tuesday evening, so everyone should have a chance to enter. Then I'll use a random number generator (www.random.org) to pick the number of the winning comment.
Questions, suggestions, complaints — this would be the place to speak up.