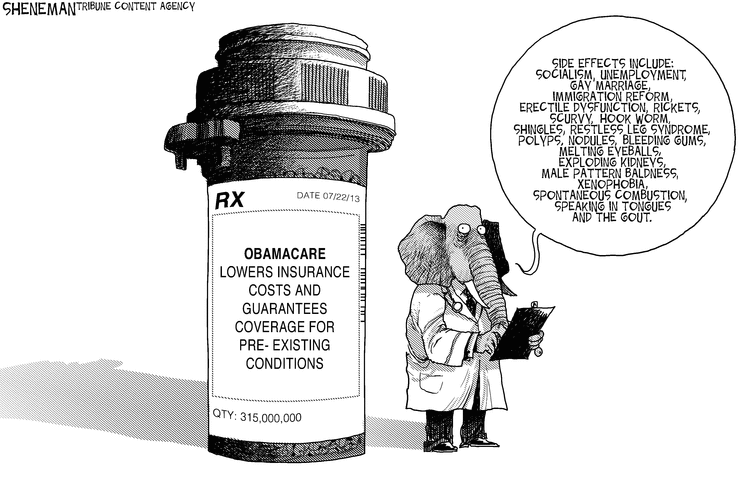 (Drew Sheneman via GoComics.com — click link to enlarge)
Mad props to Tim Egan in the NYTimes:
Just now, a cell of several hundred people has been dispatched into the American summer, to picnics, town halls, radio stations, hospitals and Little League playing fields, with a mission to derail the economic recovery and drum up support for sabotaging federal law. They're not terrorists, nor are they agents of a foreign government. This is your United States Congress, the Republican House, on recess for the next five weeks.

They even have a master plan, a 31-page kit put together by the House Republican Conference, for every member to follow while back home with the folks. It's called "Fighting Washington for all Americans," and includes a prototype op-ed piece, with a political version of the line usually reserved for dumping lovers: "This isn't about me. It's about you."…

And what if I have a child with cancer, and the insurance company plans to dump him if Republicans stop Obamacare in its tracks? Can I attend? Or what if I'm counting on buying into the new health care exchanges in my state, saving hundreds of dollars on my insurance bill?

The kit has an answer: planting supporters, with prescreened softball questions, will ensure that such things never get asked. More important, this tactic will assure that any meeting with the dreaded public will go "in the direction that is most beneficial to the member," as the blueprint states.

I thought this wasn't about you.

Oh, and Republicans should be sure to "engage with all demographics," the memo insists. It's very specific about what that means: Asians, Latinos and women. Blacks aren't mentioned. Lost cause. But millennials are included, because nothing works with young people like inauthenticity….
Also worth reading, Jonathan Cohn in TNR with "Six Reasons Hipsters Will Bite on Obamacare".
***********
What's on the Friday doc dump agenda for the end of another work week?