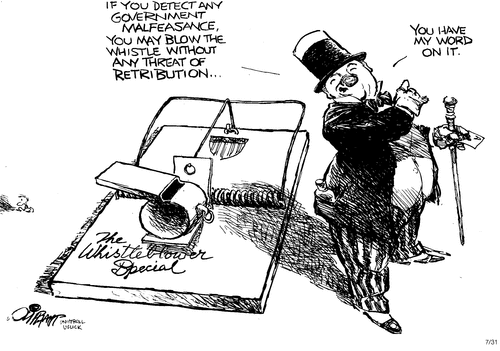 (Pat Oliphant via GoComics.com)
As advised by multiple commentors, I missed this evening's update. Per the Guardian:
White House insists James Clapper will not lead NSA surveillance review
Officials stress director of national intelligence will have limited role after Obama seemed to imply Clapper would head panel
The White House has moved to dampen controversy over the role of the director of national intelligence James Clapper in a panel reviewing NSA surveillance, insisting that he would neither lead it nor choose the members.

Statements by Barack Obama and Clapper on Monday night were widely interpreted as the director of national intelligence being placed in charge of the inquiry, which the president had announced on Friday would be "independent".

The apparent involvement of Clapper, who has admitted lying to Congress over NSA surveillance of US citizens, provoked a backlash, with critics accusing the president of putting a fox in charge of the hen house.

But the White House national security council insisted on Tuesday that Clapper's role would be more limited…
***********
Of course, he already has, according to Timothy B. Lee at the Washington Post:
The man who misled Congress on spying will pick Obama's intelligence review panel
On Friday, President Obama promised to appoint an "independent group" of "outside experts" to review the government's surveillance programs.

Today, the president formally ordered the formation of this group, giving us a sense for just how independent the group would be. The announcement doesn't inspire confidence that the president is interested in truly independent scrutiny of the nation's surveillance programs.

The panel will be chosen by, and report to, Director of National Intelligence James Clapper. Clapper famously answered "no sir" when Sen. Ron Wyden (D-Ore.) asked whether the NSA collects information about millions of Americans. Clapper has since conceded that this answer was "clearly erroneous."

And there are other signs that the group won't turn out quite the way the president described it on Friday. Friday's speech talked about the need for input from outside experts with independent points of view. The president made no mention of the need for outsiders or independent viewpoints in his memo to Clapper.

The stated mission of the group has also shifted….
More at the link.
Bonus historical fillip — the DFHs at Foreign Policy just announced an Exclusive: After Multiple Denials, CIA Admits to Snooping on Noam Chomsky. Which comes as a surprise to no one — especially Professor Chomsky — but, hey, the feds have been stalwartly cherishing that lie for so long it's aged from "vintage" into "antique". (Also, the bruhaha in the comments section between the statists and the libertarians should be preserved in a time capsule for future anthropologists.)