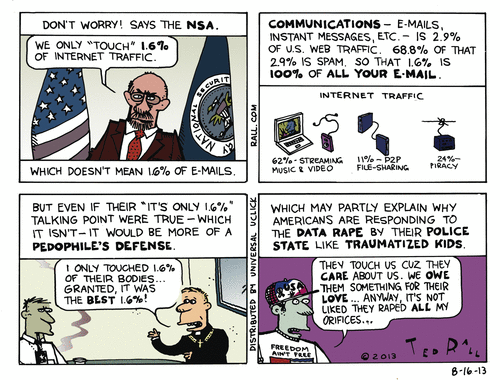 .
For us non-lawyers who read TNR, Benjamin Wittes descended from the heights of his Lawfare blog to explain why the recent NSA disclosures are a nothingburger, no big deal, quite standard actually, just not well explained:
… What with unconstitutional surveillance, hidden for months from the court, agency officials instructed to withhold information, thousands of privacy violations, and a court enfeebled in its oversight responsibility, you'd think we were dealing with COINTELPRO here.And certainly, the administration's weedy and defensive response would do nothing to convince you otherwise. "We're a human-run agency operating in a complex environment with a number of different regulatory regimes, so at times we find ourselves on the wrong side of the line," a senior NSA official told the Post.Way to go, guys.The administration also issued a collection of statements that are cumulatively about as compelling as its protestations that it does not have to cut off aid to Egypt because it doesn't have to decide whether or not a coup has taken place.Here's what an administration here's what an administration confident in itself, its compliance procedures, and its counterterrorism policies more generally and with the imagination to try to change the narrative would have said:

Shameful as it is that these documents were leaked, they actually should give the public great confidence both in NSA's internal oversight mechanisms and in the executive and judicial oversight mechanisms outside the agency. They show no evidence of any intentional spying on Americans or abuse of civil liberties. They show a low rate of the sort of errors any complex system of technical collection will inevitably yield. They show robust compliance procedures on the part of the NSA. And they show an earnest, ongoing dialog with the FISA Court over the parameters of the agency's legal authority and a commitment both to keeping the court informed of activities and to complying with its judgments on their legality. While it took a criminal act to make this record public, we are deeply proud of this record and make no apologies for it.

The underlying documents support every component of this statement the administration for some deer-in-the-headlights reason is not capable of making….
Since I am an optimist, for certain narrow definitions of the word, I look forward to Thanksgiving 2016, when the bulk of today's Security Defenders 'on the left' will reverse polarity to explain that incoming President HClinton/Booker/Gillibrand/Christie/Walker/JBush/Paul/Insert-Name had better immediately dismantle the ridiculous & overreaching trappings of the security state, or else. Fortunately, ideological inversions don't (directly) affect the physical world, or I'd worry about the wholesale shift causing a gravitational wobble.