August 24 Twin Cities Meetup
Per a request from valued commenter imonlylurking, here's notice of an upcoming Twin Cities meetup on August 24:
We didn't really decide on a time so I'm thinking 3 or 4, and the location suggestions were Bulldogs, Sawatdees (Robert and 9th), and Shamrocks. We should finalize time and location-I can be there early to hold a space.
Leave your time and location preferences in comments below so that you Twin Cities folks can reach a consensus in what will undoubtedly be a Minnesota Nice fashion.
The Delights and Dangers of Food Storage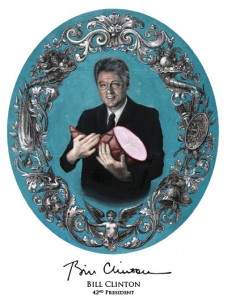 In 2004, we had a series of hurricanes in Central Florida. One (Charley, I think) knocked out our power for awhile. We lost a few shingles, and the storm tore up the soffit under the roof overhang on one side of the house, but aside from the lack of air-conditioning, we were fine in the aftermath, having laid in plenty of supplies, including bags of ice in big marine coolers where we could store our fridge stuff until power was restored.
One lady I worked with had a deep freezer that she hadn't cleaned out in several years. During the power outage, she found a ham wedged in a corner that had been welded in place by permafrost. When the ham thawed, she found a "sell or freeze by" date from 1997!
She asked me if I thought she should throw it out, and I said fer chrissakes YES, she should throw out that Clinton administration ham and under no earthly circumstances eat it. I stressed that when she bought that ham, my second-grader had not yet been born. I asked how she could possibly contemplate eating a ham that had been wedged in a freezer for as long as it took for a child to be conceived, born, learn to walk, talk, ride a bike, read and write and complete three years of school?
But she ignored that sound and heartfelt advice and cooked and ate that fucking ham. And she not only failed to sicken and die, every day she came to work talking about the awesome ham and split pea soup she made from the leftovers, and the ham salad sandwiches and homemade Moons over My Hammy, etc.
I'm not like that at all. I'm no germ-phobe; I'll eat at dodgy restaurants and drink milk several days past its expiration date if it smells okay. But there is nothing in my freezer from the goddamn Bush administration.
Yesterday I went on a fridge-cleaning binge purely by accident. We had run out of normal garbage bags for the kitchen bin a few days back, and no one can seem to remember to pick some up when they visit the store, so we've been collecting trash in recycled grocery bags.
I decided to take several of these to the big trash can outside, using some giant, sturdy contractor bags we have leftover from our slow-mo home renovations. It seemed a waste to dispose of the bag only half filled, so I went on a rampage through the fridge and freezer and threw out so much crap — half-filled bags of old frozen peas, etc. I feel awful about wasting food and try to be fairly frugal, but it just accumulates.
Do you have any method to keeping your fridge and freezer under control? Any rules about the age of the frozen stuff you'll still eat? Please feel free to discuss this or whatever else you find interesting at the moment.
[Image credit:
Bijijoo
]