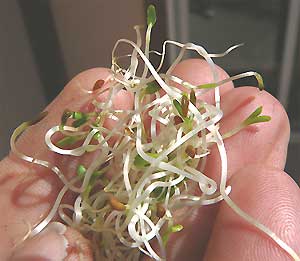 But what the hell happened to the alfalfa and broccoli sprout production in this country? I can't find the damned things anywhere, and I absolutely love them.
I had all the boys over for a big spaghetti and meatball dinner yesterday, and after all that cooking and cleaning, I decided I just wanted to have some Jewish soul food for dinner. Bagel, cream cheese, capers, thinly sliced red onion, smoked salmon, SPROUTS, and then topped with fresh tomato and salt and pepper.
But they had no sprouts, so I had to go with a partial sammich for dinner. And they have been absent from my groceries for over a year. What happened? I asked and they told me they couldn't be shipped safely.
How can this be? We send nuclear waste cross country. Every day on the highway I see trucks laden with chemicals and petrol. How can we possibly not be able to ship fucking alfalfa sprouts safely? WTF?
Why has the free market not figured this out yet?
Also, I kind of snickered a couple of hours ago when I caught myself peering into the fridge bellowing "WHERE THE HELL ARE MY CAPERS?"
Issues, I have them.