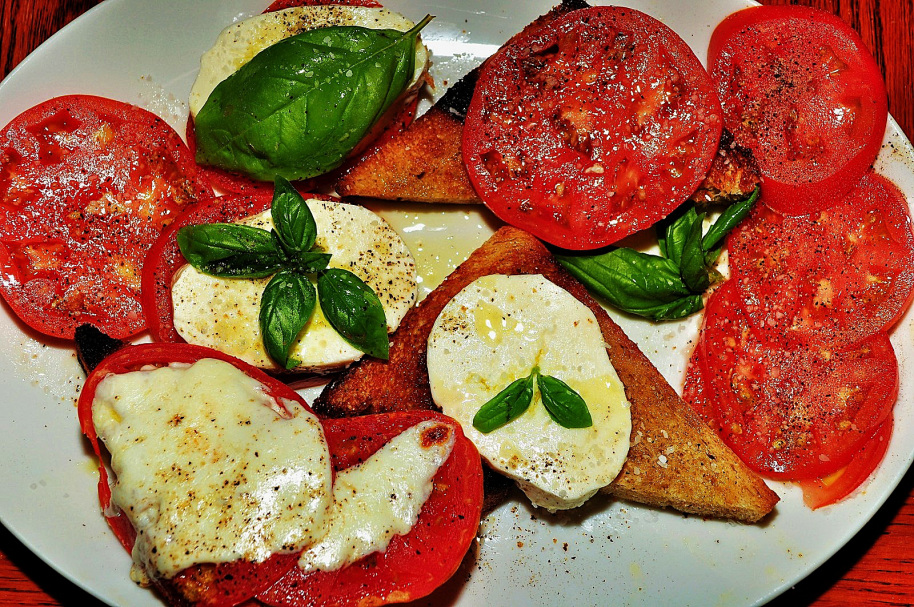 From our Food Goddess, TaMara:
I emailed JeffreyW earlier this week and told him I wanted to focus on tomatoes today and did he have any favorite tomato pictures for me. Wow, did he. It was difficult to choose. I thought the one above really highlighted what's great about the peak of tomato season: simplicity. Fresh tomatoes from the garden, a little salt and pepper, that's all you need for a great treat. Add some mozzarella and basil, toss with pasta and it's dinner (recipe here).

When your bushel basket runneth over, then the ideas get a bit more, shall we say, creative? Anne Laurie sent me a link to a Tomato Recipe Contest, and the winner was Frozen Fattoush – a savory tomato sorbet served as a cold salad with cucumbers and pita chips. I know, I know, it seems crazy, but if you click here, it actually sounds tasty. That recipe and all of the winners can be found here at the Washington Post in case you're looking for some unusual ideas. Many thanks to Anne Laurie for the heads up.

If you're not quite ready for that much adventure, I have some more traditional tomato ideas.

JefferyW does a simple Sauteed Cherry Tomatoes over Pasta (click here).

A little something different to do with tomatoes and cucumbers: Cold Tomato Cucumber Soup (recipe here)

And salsa recipes, we have several: Simple Salsa (here), JeffreyW Salsa (here) and if tomatoes aren't your thing, why miss out on the salsas: Salsa Verde (click), Red Pepper Salsa (click), and Pineapple Salsa (click) are all tomato free. We do not discriminate.

What are you doing with your tomatoes this year (garden or farmer's market fresh)? What fall produce are you looking forward to…for me it's apples, yum. Hit the comments and share your harvest season recipes.

And finally, tonight's featured recipe, one of my favorite soups:


Tomato-Spinach Soup

14 oz of diced tomatoes (fresh or canned)
2 cups loosely packed baby spinach, cleaned (reserve
2 thick slices of french bread or equivalent (optional, works well without, if you need to keep it gluten free)
2 carrots (1 quartered, the other sliced)
1 cup green beans
1/4 of a small onion, chopped
1 cup water, as needed
2 tsp crushed garlic
1 tsp dried basil, crushed
1 tsp dried oregano, crushed
salt and pepper to taste
Grated Parmesan, fresh spinach leaves for garnish
blender, saucepan

In a blender, blend together bread, spinach, tomatoes and 1 carrot, until smooth*. Add to saucepan with vegetables and spices. Bring to low boil, reduce heat and let simmer for 15 to 20 minutes. Serve with Parmesan. Makes 2 generous servings.

*Blending the spinach, tomatoes, carrot and bread together gives you a nice hearty tomato base for the soup. You can add some spinach leaves at the end if you like, letting them get limp but not overcooked.