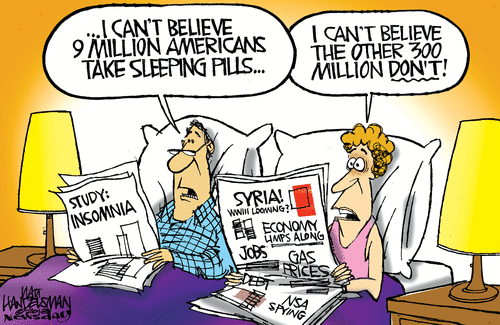 (Walt Handelsman via GoComics.com)
Because sudoku is so 2011, NYMag offers political junkies a new numbers game:
Twitter has become such an integral medium for political communication that, according to our count, 97 percent of members of Congress now have an official Twitter presence. But Twitter is a two-way street — you spread your message, and you listen to what others have to say. So who are members of the House and Senate (or, doubtless more often, their staffs) listening to on Twitter? Daily Intelligencer decided to find out: With help from the wizards at Twiangulate, we identified every congressional Twitter account, then analyzed which other accounts they follow most often. Read on for rankings of which news organizations, journalists, and other politicians members of Congress follow, and which congressmen and women have the most and least followers. The takeaway, on Twitter as in life: The two parties don't listen to each other very much.

Topping the overall list of most followed accounts are four D.C.-based political news outlets, which, thanks to their bipartisan appeal, are followed by around 60 percent of members of congress. But taking a look at the top twenty accounts divided by party shows zero overlap beyond the Hill, Politico, Roll Call, and CSPAN: Although they like a few of the same publications, Democrats and Republicans tend to lack interest in … each other. Also of note in the party breakdown: President Obama is only the eighth most-followed account among Democrats in Congress, which seems odd. On the Republican side, John Boehner, apparently the world's most interesting tweeter, is hogging two spots in the top ten…
Time-killing or serious, what's on the agenda for the evening?