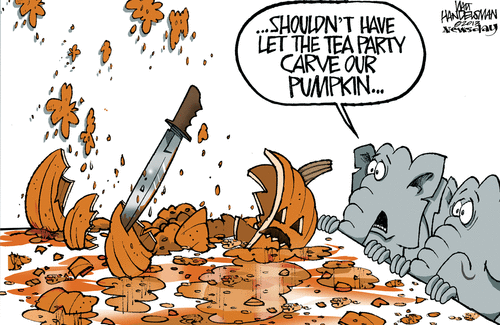 (Walt Handelsman via GoComics.com)
Harold Meyerson taunts the "moderate" Republicans:
… While The Post counts 21 GOP House members who have declared themselves in favor of ending the shutdown by passing a clean resolution, most of them have done nothing to compel the House Republican leadership to allow such a vote.

… The tea party faction, which by most estimates includes about 40 members, wields vast power over the leadership and the caucus, while the center-right contingent wields zilch. Both factions have enough votes to block legislation backed by the House leadership if the Democrats also vote against it, but it has been tea partyers, not centrist-moderates, who have used that veto power. Unlike their tea party counterparts, the center-right members lack gumption and imagination.

The gumption gap is understandable; unlike the Republican radicals, the moderates fear primary challenges next year. But there is a way to avoid Republican primary challenges, though it would take a leap of political imagination. To vote his beliefs and duck that challenge, all a center-right Republican has to do is declare himself an independent.…

If they truly believe that government by hostage-taking is no way to run a democracy, they shouldn't have too much trouble defending their defection. They could argue that their party has been transformed into a closed sect that can never win a national majority, or that it has descended into a hysteria that has run roughshod over such conservative values as prudence and balance, not to mention a modicum of strategic sense.

They could dub themselves Independent Republicans or True Republicans. They could tell their constituents that they put the interests of the nation above those of their party. If that's not a winning argument in a swing district, Lord only knows what is….