I don't have much to say lately, but here's a picture of me circa 1988 doing my best Johnny Rotten: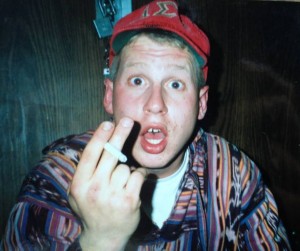 Teenage wasteland…
*** Update ***
Now that I look at that picture more, it is circa 1991 because that is my barracks locker in the background in Fulda (check out the locks hanging from the locker). My buddy Jason sent me this photo earlier, and he had traveled to Germany and stayed a couple days with me in Fulda while hiking across Europe.
That also explains why my fingernails were so dirty (it horrified me when I looked at the picture). As a tanker, I don't think I spent a day in that three year period without hydraulic fluid or axle grease or gear oil all over me.
*** Update #2 ***
My buddy Jason confirms this was 1991, and sends this picture along that I took of him a few hours after the previous picture with a little bit of my own artwork: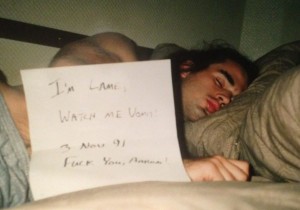 Hehe. I love that even in 1991 we were joking about people hating America.