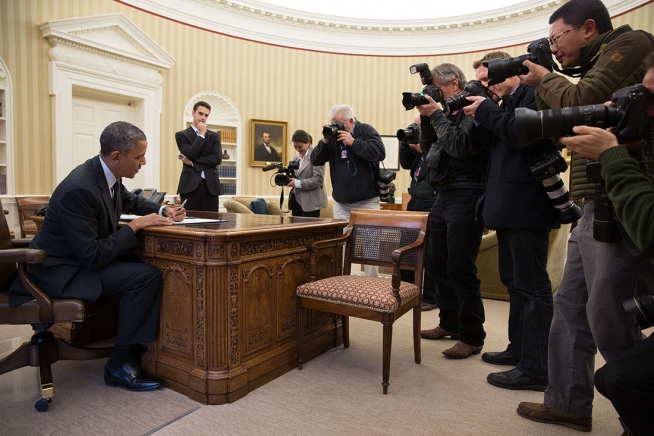 Here's yesterday's White House photo of the day, taken on November 21, designed to address the current bout of whining from the White House Press Corpse about access to Obama for photo-ops. I'm all for meaningful press access to the President, but that's never what these guys complain about. They're butthurt because the official White House photographer gets to take pictures in more places than they do:
"Journalists are routinely being denied the right to photograph or videotape the President while he is performing his official duties," the news organizations said in the letter. "As surely as if they were placing a hand over a journalist's camera lens, officials in this administration are blocking the public from having an independent view of important functions of the Executive Branch of government."
Here are some of the events they are complaining about:
Just last month, he said, the White House kept photographers away from a White House meeting between the president and Malala Yousafzai, the 16-year-old Pakistani student who was shot in the head by Taliban gunmen for speaking out in support of the right of girls to go to school. She met with Obama and his wife, Michelle, and their 15-year-old daughter, Malia.

The letter cites seven recent instances of newsworthy meetings from which independent photographers were excluded, including the one with Malala. Among the others were meetings with former Secretary of State Hillary Rodham Clinton in July and Sens. Lindsay O. Graham (R-SC) and John McCain (R-Ariz) in September.
Because what the world needs is a 15 year-old girl facing a gagglefuck of White House paparazzi, and yet another picture of Mr and Mrs John McCain.